The Best Kettlebell Workout DVDs Reviewed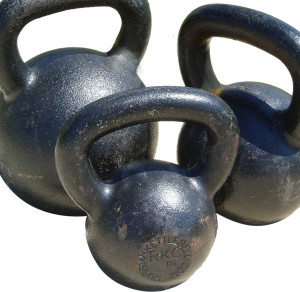 The kettlebell is a cast iron weight that is said to have been developed in Russia in the 1700s, and can be used to perform various types of exercises including strength, flexibility, and cardiovascular training.
They resemble an old cannonball with a handle, and are traditionally available in a unit of measure known as a Pood, which is equally to roughly 16.38 kg.
The major muscle groups targeted by the kettlebell workouts are the muscles of the lower back, legs, and shoulders, along with those responsible for grip strength.
Exercises are performed for a relatively larger number of repetitions when compared to your traditional strength training routines that utilize dumbbells and barbells.
The movements such as the swing, snatch, and the clean and jerk, are very similar in nature to real world activities like performing farm work or shoveling.
Best Beginner Kettlebell Workout – For FREE!
Our Picks For The Best Kettlebell DVDs