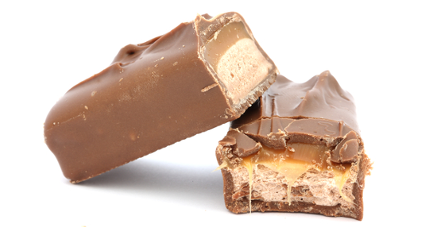 Some people will tell you that "real" food is the only way to build real muscle, while others swear that truly impressive gains are only possible through significant supplementation. I tend to believe that any argument taken to the extreme boarders on lunacy, so my feelings on the matter tend to lie somewhere between the two extremes.
I understand and support the necessity of making nutrient dense "real" food a part of your diet, but at the same time I know from personal experience how much more convenient grabbing a protein shake or bar can be. Many of the protein bars  and shakes I've tried pack a powerful protein punch, and actually taste pretty darn good.
Todd from PhitZone.com has a post titled "Top 5 Must-Have Supplements" that is informative, straight to the point, and for the most part reflects the amount of supplementation that I include in my fitness journey. The only supplement not mentioned in the post that I include in my journey is kre-alkalyn. Kre-Alkalyn
is a patented form of creatine that comes in a capsule version, but it also has a few additional features that convince me chose it over it's cousin, creatine monohydrate.
The directions on the majority of creatine monohydrate out there that I've seen includes a loading phase that requires you to take often 4 times the amount taken in the maintenance phase. In my experience this loading phase results in you burning through about half your container in the first week. Kre-Aalkyln requires no loading phase, no cycling, and requires a lower dosage than many other forms of creatine.
One of the number one complaints I've heard from those that have used creatine is that it makes them retain water and leaves their muscles feeling bloated . I've experienced this feeling myself with several different types of creatine. Kre-Alkalyn is bloat free.
A four month

study

by bodybuilding.com compared a group of subjects taking Kre-Alkalyn to a second group that took creatine monohydrate. An unexpected result of the study was that the subjects who took creatine monohydrate displayed elevated LDL (bad) cholesterol levels, while the LDL (bad) cholesterol levels of the group that took Kre-Alkalyn actually decreased over the test period.
"A Snickers candy bar is just as good for you as a protein bar, they're basically the same thing!"
I must have heard it about a thousand times this year, especially around holidays like Halloween. I usually just pass a comment like this off as someone who's just trying to justify the fact they're about to mow about a half dozen of the little fun size bad boys, but then I started to get curious. Are Snickers bars just as good for fit desk jockeys as many of the most popular protein bars on the market?
Of course for an accountant this means spreadsheet time!
And the Bar Fight Begins!
Sale
Bestseller No. 1
Pure Protein Chocolate Deluxe Protein Bars, 1.76 oz, 12 Count
One 12 count box of Pure Protein Chocolate Deluxe Protein Bars
These protein snack bars offer delicious chocolate flavor with every bite
Gluten free Pure Protein bars contain 21 grams of protein, 180 calories, and 3 grams of sugar.State of Readiness: Ready to Eat
Protein bars with whey protein isolate support lean muscle and strength, as well as an active lifestyle
Enjoy these low sugar (1) protein bars as a convenient protein snack
Sale
Bestseller No. 2
Pure Protein Bars, High Protein, Nutritious Snacks to Support Energy, Low Sugar, Gluten Free, Variety Pack, 1.76oz, 18 Pack
You will receive one 18 ct box of Pure Protein Bars, Variety Pack (Chocolate Peanut Butter 6ct, Chocolate Deluxe 6ct and Chewy Chocolate Chip 6ct), 1.76 oz
PERFECT COMBINATION: Pure Protein Bars are the perfect combination of high protein, low sugar (1), and great taste
DELICIOUS HIGH PROTEIN BAR: Pure Protein Bars Variety Pack have 20g or 21g of protein (depending on flavor) for quick and sustained energy, and is gluten free
ON-THE-GO PROTEIN SNACK: Pure Protein Bars fuel your on-the-go active lifestyle. These protein bars are packed with a high quality protein blend for both quick and sustained energy, and full of flavor to satisfy your sweet tooth one bite at a time
PRE- AND POST-WORKOUT FUEL: Pure Protein Bars are perfect for before or after a workout. Grab a protein bar about an hour before a workout to provide carbs and protein for energy and lean muscle support. Treat yourself after your workout to replenish energy and help the muscle recovery process. Fuel your workout and nutritious balanced diet
Bestseller No. 3
Barebells - Protein Bars, High Protein and Low Carb Bar, Low Sugar Snack Protein Bar with 20g protein (Variety Pack, 4 flavors, 12-pack)
BAREBELLS VARIETY PACK - Our protein bar variety pack is a delicious mix of some of our fan favorite flavors, all with 20 grams of protein – Cookies & Cream, Caramel Cashew, Salty Peanut, and Chocolate Dough.
HIGH IN PROTEIN LOW IN SUGAR - Protein bars from Barebells contain 20g of protein and just a few grams of sugar per serving which makes it the perfect low carb snack.
PROTEIN SNACKS ON THE GO - Barebells is the ultimate choice for pre- and post-workout, as low calorie snacks at the office or for anyone who wants to satisfy their chocolate cravings.
WE BELIEVE IN HAPPY EATING AND HEALTHY LIVING - the Barebells protein bar is famous for its soft texture and amazing taste. Never compromising on flavor, Barebells protein bars are here to wow your taste buds.
100% BAREBELLICIOUS - Available in 9 incredible flavors. Barebells protein bars were born to wow your taste buds! All with no added sugar, high in protein, without palm oil and never compromising on flavor. You're welcome!
Sale
Bestseller No. 4
think! High Protein Bars - Lemon Delight, 20g Protein, 0g Sugar, No Artificial Sweeteners, GMO Free, 2.1 oz bar (10 Count)
thinkThin is now think! Our packaging may vary as we transition.
Every bite of our Lemon Delight bar is filled with tangy mouthwatering lemon flavor and almonds all wrapped in sweet creamy frosting providing an indulgent taste that satisfies hunger.
20 grams PROTEIN: Our highest protein bar is for consumers seeking a multipurpose nutritional bar that can go from an energy boosting snack to a meal replacement when paired with a piece of fruit. Helps support lean muscle, muscle recovery and growth, and satiety.
0 grams SUGAR: No artificial sweeteners - does not contain sucralose, saccharin, aspartame, acesulfame potassium, neotame or advantame. Great for those watching their sugar intake (Low GI).
We take pride in selecting ingredients that are GLUTEN FREE, GMO FREE* and KOSHER with no artificial colors or flavors. *All ingredients have been produced without genetic engineering.
Bestseller No. 5
Quest Nutrition Mint Chocolate Chunk Protein Bar, High Protein, Low Carb, Gluten Free, Keto Friendly, 12 Count
YOU DESERVE A SPECIAL TREAT: The Mint Chocolate Chunk Protein Bars taste like an indulgent chocolate mint patty. Only our bar has 20g protein, 4g net carbs and 1g of sugar per bar
UNWRAP COMPLETE PROTEINS: The Quest Mint Chocolate Chunk Protein Bars are made with complete, dairy-based proteins to provide your body with 9 essential amino acids
UNWRAP COMPLETE PROTEINS: The Quest Mint Chocolate Chunk Protein Bars are made with complete, dairy-based proteins to provide your body with 9 essential amino acids
SWEET WITHOUT ADDED SUGAR: Enjoy the refreshingly sweet taste of chocolate and mint without worrying about added sugars. The Quest Mint Chocolate Chunk Protein Bar has no added sugars
TREATS THAT TRAVEL WITH YOU: Take Quest Mint Chocolate Chunk Protein Bars with you in your backpack, purse, car console, cup holder, gym bag or wherever your adventures take you
Bestseller No. 6
Gatorade Whey Protein Recover Bars, Chocolate Chip, 2.8 ounce bars (12 Count)
Made with 20 gram of high quality whey and milk protein to help rebuild your muscles so you come back strong
42g of carbs per bar to replenishing and get ready for tomorrow's workout
Scientifically developed for athletes, each bar contains protein and carbs to rebuild and refuel. The protein bar used by the NFL, NHL, NBA and MLB is now available to you, Includes 12 chocolate chip bars
350 calories, 20g protein, 42g Carbs
Individually wrapped to enjoy at the gym, off the field, or on the go
Bestseller No. 7
Quest Nutrition- High Protein, Low Carb, Gluten Free, Keto Friendly, Chocolate Lovers Variety Pack, 12 Count
Quest Nutrition Protein Bars are great by themselves but can also be baked into a delicious meal, dessert or breakfast treat, Packaging May Vary
20-21g Protein, 4-5g Net Carbs, <1-1g Sugars, 14-16g Dietary Fiber, 170-200 Calories, 4.5-8g Fat
No Added Sugar - Sweetened with Erythritol, Sucralose and Stevia
Contains Unsweetened Chocolate, Cocoa, Cocoa Butter, Peanuts, Almonds, Coconut Oil and Natural Flavors
All Natural, Gluten and Soy Free; Includes Chocolate Chip Cookie Dough (3), Mint Chocolate Chunk (3), Chocolate Peanut Butter (2), Double Chocolate Chunk (2) and Chocolate Brownie (2) Protein Bars
Sale
Bestseller No. 8
MET-Rx Big 100 Colossal Protein Bars Variety Pack, Super Cookie Crunch, Vanilla Caramel Churro, and Crispy Apple Pie Flavors, Brown, 12 Count
One 12 count box of MET-Rx Big 100 Colossal Protein Bars Variety Pack, Super Cookie Crunch, Vanilla Caramel Churro, Crispy Apple Pie
One 12 count box of MET-Rx Big 100 Colossal Protein Bars Variety Pack, Super Cookie Crunch, Vanilla Caramel Churro, Crispy Apple Pie
These meal replacement bars are packed with protein for complete hunger satisfaction
Each MET-Rx protein bar is a significant source of Zinc and Vitamins A and C
Protein bars feature Metamyosyn protein blend for both a quick and sustained delivery of amino acids to muscles
Sale
Bestseller No. 9
KIND Protein Bars, Almond Butter Dark Chocolate, Gluten Free, 12g Protein
Contains (12) 1.76 oz KIND Protein bars, Almond butter Dark Chocolate
Made with premium whole ingredients and a creamy, crunchy texture, it's a protein bar that doesn't taste like one.
Good source of protein - 12g per bar
Gluten Free, no genetically modified ingredients, 0g Trans fat, Kosher
Low glycemic index, low sodium, good source of fiber
Bestseller No. 10
Bestseller No. 11
Built Bar 12 Pack High Protein and Energy Bars - Low Carb, Low Calorie, Low Sugar - Covered in 100% Real Chocolate - Delicious, Healthy Snack - Gluten Free (Salted Caramel)
SALTED CARAMEL - Have you ever tasted luxury? Salted Caramel is truly the taste of luxury in every bite. You'll enjoy delicious caramel, with just a dash of salt. And it's all covered in 100% real dark chocolate. Treat yourself to something special. You are worth it.
PERFECT TEXTURE - The typical protein bar is dense, gritty, and difficult to chew. Not Built Bar. Light, fluffy, and covered in perfectly tempered exotic chocolate. With each bite you take, you will think you are cheating on your diet, indulging on a chocolate dessert! Your quest for the perfect protein bar ends here.
MACRO HEAVEN – High protein with low sugar, low carbohydrates, and low calories. The best part, Built Bars taste like a candy bar. Enjoy, guilt free!
CLEAN - Finally, a well-rounded bar without all of the crap. No artificial flavoring, coloring or preservatives. No wax, no junk and Non-GMO. All Bars are produced and packaged in the USA.
ANYTIME SNACK - Built Bar is perfect for, well…. anytime. Breakfast, lunch, and dinner. Pre-workout and post-workout. On a hike or in the office. Low carb, high protein. Unbelievably healthy, ridiculously delicious.
Bestseller No. 12
CLIF BARS - Energy Bars - Best Sellers Variety Pack- Made with Organic Oats - Plant Based (2.4 Ounce Protein Bars, 16 Count) Packaging & Assortment May Vary (Amazon Exclusive)
Includes 16 total energy bars in the following flavors: Chocolate Chip, Chocolate Brownie, Crunchy Peanut Butter, White Chocolate Macadamia Nut Flavor, Cool Mint Chocolate*, Peanut Butter Banana with Dark Chocolate, and Blueberry Crisp
NUTRITION FOR SUSTAINED ENERGY: CLIF BAR is the ultimate performance energy bar, purposefully crafted with an ideal mix of protein, fat, and carbohydrates to sustain active bodies before and during long-lasting, moderate-intensity activity.
INGREDIENTS THAT ARE BETTER FOR THE PLANET: As part of our mission to help create a healthier, more sustainable food system, we make every bar with sustainably sourced chocolate and plant-based ingredients like almonds, peanuts, and organic rolled oats.
DELICIOUS FLAVORS, ENDLESS VARIETY: Satisfy any taste with a dazzling array of craveable CLIF BAR flavors, including classic favorites like Chocolate Chip and Crunchy Peanut Butter.
ENERGY ON THE GO: Whether you need sustained energy for hiking, climbing, skiing, or a long bike ride, CLIF BAR delivers wholesome, delicious energy that's all wrapped up and ready to go.
There are three things that I ALWAYS look at when I'm selecting a protein bar.
High in Protein – Duh, right? The sad thing is that as you can see in the table above, even the second lowest bar has 3 times as much protein as the Snickers Bar, which had the lowest amount on our list. Eight of the protein bars reviewed were packed with over 30 grams of protein per bar, making Snickers' 4 grams look rather minuscule.
Low in sugar – Several protein bars and most candy bars alike are absolutely stuffed with this simple carbohydrate. As a simple carbohydrate, sugar is digested very quickly and makes it's way into the blood stream rapidly. Excess sugar in the bloodstream is unhealthy, so the body's natural response is to store the excess sugar as fat. So where did Snickers stand? Snickers came in second highest in this category, with a jittery 30 grams of sugar, which is equivalent to over 3 1/2 teaspoons of sugar!
Low in sodium – Several of the protein bars that I've tried at one time or another contain significant amounts of sodium. The sodium content in the bars we reviewed as all over the board with some containing as little as 55 mg, while others contain over 500 mg of sodium. In this comparison Snickers actually comes in on the low end, relatively speaking, with 140 mg of sodium. The FDA recommends that people aim for a daily sodium intake right around 2,300 mg/day, not that we should base our goals strictly on the recommendation of government agencies. It's a good starting point at any rate. If you're an American Fit Desk jockey, according to the American Heart Association you likely have room for improvement. Their studies indicate that the average American sprinkles their way to 3,436 mg of sodium per day. Be mindful and be nutrition aware.
Sugar Alcohol Fit Facts
Many of the protein bars on the above list are made with sugar alcohol (aka polyol, polyhydric alcohol, or polyalcohol) instead of sugar. Sugar Alcohol tastes very similar to sucrose (table sugar), but is derived from various plant products including fruits and berries.
Sugar Alcohols taken as a group are less sweet than sucrose. For instance one type that's commonly used, Maltitol, is about 75% to 90% as sweet as sucrose. Despite it's name, sugar alcohol is not the same as the alcohol found in alcoholic beverages.
Sugar Alcohol Positives:
Does not contribute to tooth decay
Has a lower caloric content than sucrose
Produces a significantly smaller increase in blood glucose levels
Sugar Alcohol Complaints/Negatives – Over-consumption may lead to:
Bloating, Diarrhea, and/or Flatulence
Weight gain
Will NOT get you drunk – Hey, I'm sure that bothers someone, somewhere.
The Winner!
As the bar fight comes to a close, the dust settles and the protein bars stand victorious. Don't get me wrong, I love Snickers! In fact if I ever had a Blizzard from Dairy Queen, my choice would most definitely be Snickers. It's just that they don't have enough protein and are a little too high in sugar and fat to be considered synonymous with a protein bar.
I've had the majority of the protein bars in the above list, but the two I buy the most are the ONE Peanut Butter Pie, and the QUEST Blueberry Pie. One of the things that no list can quantify is people's personal tastes. When choosing a protein bar I always start by looking at the nutrition label, but if it tastes like crap it's not making it into my arsenal.
Sound Off

!
Is your favorite protein bar on the list? Did your favorite bar not make the list?  Feel free to share your experiences in the comments section below.  Or say whatever pops your cork!