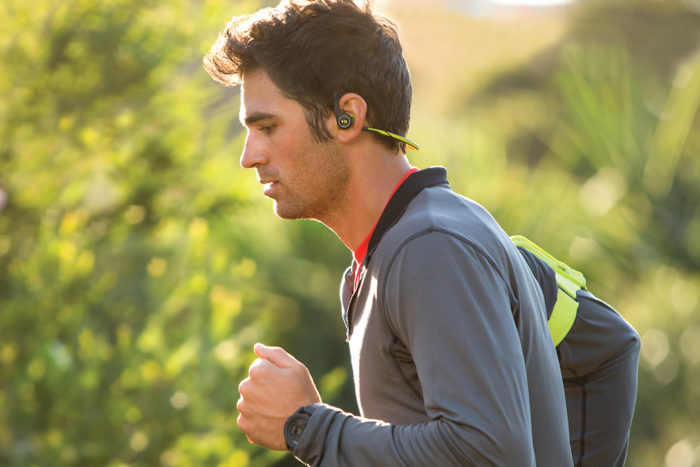 Before we take a look at the top wireless headphones for running, I have a confession to make.
I'm not quite sure how it happened, but over the last couple of years I have developed a growing fondness for running. I used to absolutely hate it…you know because it's cardio and all. The change was gradual, starting out with just an impromptu (and somewhat accidental) brisk mile jog once in awhile. The next thing you know I'm planning how many running events I can fit into my Summer. Wait…what? How did that happen?
I'm by no means an elegant runner.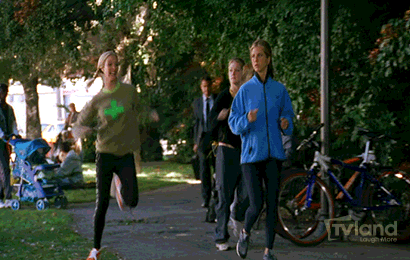 I'm not a fast runner, and I definitely can't run incredibly far.
That being said, I do thoroughly enjoy the post-run sense of accomplishment, and positive vibes that a good run provides me with.
There's just something about putting on my headphones and focusing on something so simple as keeping my legs moving that just melts away the stresses of the day in the moment, and makes the challenges after running that much more manageable.
Then of course there are the other notable benefits that running provides including improving your overall health, preventing certain diseases, weight loss, confidence building, stress relief, and even depression management.
Beyond that, did you know that there's a decent amount of research supporting the idea that music can actually improve your workouts?
A number of studies have suggested that listening to music can actually make you run faster too. Some researchers have suggested that music can be used very effectively as a synchronous mode, which means that you synchronize your stride to the rhythm in order to gain a positive effect (insert crazy fast techno beat). Others have suggested that music reduces our perception of exertion, which has the effect of making the effort seem less strenuous.
Technology for has also been a big source of motivation. As soon as a realized that free apps like Runkeeper could actually track your runs AND show how you performed in comparison to other runs that you've done, I was hooked in a big way. It was like a little self competition was the last thing I needed to be truly motivated to start being consistent. The audio ques are also a HUGE help because they provide real time feedback regarding your performance, as long as you're running with a good pair of trusty headphones.
I HAVE to have my headphones, but one of the problems I had when I first started running was finding a quality pair of headphones that didn't break (eventually only working in one ear – I hate that), OR break the bank.
The 3 most important factors I consider when choosing a pair of headphones for running are:
Wireless – They HAVE to be wireless (cords are so 90s) – and my clumsy ass tends to get tangled in cords.
Sound quality – I like a little bit of bass. They can't sound too tinny, and they better sound good cranked.
Price – They can't break the bank
With those 3 considerations in mind we've compiled a list of the best 15 wireless (Bluetooth) sports headphones for running.
Sale
Bestseller No. 1
[Newest 2019] Wireless Workout Bluetooth Headphones for Running and Gym - Mens Best Noise Cancelling Sport Earbuds - Waterproof IPX7 Sports Earphones - HD Stereo Sound Headset for iPhone & Android
HD SOUND & CLEAR BASS - Dance to the beats with our high clarity stereo workout bluetooth headphones - Villain wireless earphones offer an incredible balance of style & performance at an excellent price.
WATERPROOF - IPX7 Rated, our bluetooth running earbuds are ideal for intensive workout, sports and athletic activities - Built-in Microphone with CVC 6.0 noise suppression technology allows you to answer phone calls at any time.
CONVENIENT - Preferred design of many professional basketball, Football players, our bluetooth headphones perfectly fits around your ears & connects effortlessly using Bluetooth 4.1 CSR Technology.
INCREDIBLE PERFORMANCE - With quick charging time of 2 Hours, and play time up to 10 Hours, this cordless earbud is an indispensable companion for fitness, sport, travel, runners, outdoor adventures, camping, etc.
BEST BUDGET HEADPHONES - Want best wireless earbuds without an astronomical price tag? Villain Bass is an unbeatable choice - Value for money guaranteed.
Bestseller No. 2
Back Bay - Runner Wireless Bluetooth Earbuds, Sweatproof Headphones. Featuring Adjustable Ear-Hooks, 8-Hour Battery, 5 EQ Sound Modes, Microphone and Earphone Carrying Case
Classic American Hi-Fi Sound - We tune all our earphones in our Boston headquarters to produce the classic "American Hi-Fi Sound"- strong bass, a relaxed, natural midrange and crisp highs
5 EQ Sound Settings - We've given you the ability to change the equalizer settings in your headphones. Turn up the bass for rap and EDM tracks, make vocals clear and crisp for podcasts, and easily find the perfect sound for rock, pop and classical
Sweatproof - The American EQ 27's were made for long runs in the rain, sleet and snow. Internal nano-coating creates IPX-4 rated splash-proofing on the electronics in a slim design for fitness. Sweat in the gym will have no effect on the headphones
Hands-Free Phone Calls - Take wireless phone calls and control your music without ever touching your iPhone, Android or other cell phones. The in-line mic on the headset gives you the freedom of loud and clear cordless voice phone calls
8-Hour Battery Life - A full battery will last for 8 hours of music and 240 hours of standby time. With SPEED-CHARGE technology, 15 minutes of charging on a low battery will give you 1.5 hours of music. The battery status will be displayed on the top bar of your iPhone.(Recharges with a normal micro USB cable)
Bestseller No. 3
Wireless Bluetooth Earphone Noice Cancelling Earbuds Earplug Headphones for Runner Headset with MIC Sweatproof & Waterproof Bluetooth 5.0
>Perfect workout headphones that are snug and secure so the headphones stay put while running, biking or at the gym.
>Built-in magnets let you attach the two headphones together when not using, and wear like a necklace around your neck, a convenient way to carry around when you don't need them.
>The rechargable long battery life means you get 6-8 hours of continuous music, or can relax with 80 hours of standby time when powered with a 5V external charger
>CVC 6.0 Noise Cancelling Microphone reduces outside noises, enable clearer microphone sound.
>We are guaranteed to be the high-quality material WIRELESS BLUETOOTH HEADSETS, provide excellent customer service.
Bestseller No. 4
Aftershokz AS650SG-BR Trekz Air Open-Ear Wireless Bone Conduction Headphones with Brilliant Reflective Strips, Slate Grey
EXCLUSIVE PACK - Includes Treks Air wireless bone conduction headphones and pack of Brilliant Reflective strips. The sweat proof, Open Fit headphone design ensures ears remain open for situational awareness while reflective strips make drivers aware of you.
DESIGNED FOR LONG-TERM WEAR - The new, organic, wrap around headphone design is 20% lighter than its counterpart Treks Titanium to deliver unnoticeable all-day comfort. Six hour continuous use battery life further supports long-term wear.
BLUETOOTH CONNECTIVITY - Wireless headphones with Bluetooth v4.2 connectivity and convenient multipoint pairing, these are compatible with your iOS and Android Bluetooth-ready smartphones or tablets and Mac and PC computers and laptops.
QUALITY SOUND - Innovative Aftershocks headphones  combine Premium Pitch technology for wide dynamic range and rich bass, Leaks layer technology to reduce natural sound leakage, and dual-noise canceling mics to ensure a premium, on-the-go audio experience.
VISIBILITY ON-THE-GO - Brilliant Reflective strips easily adhere to bikes, helmets, shoes, and more. Designed to be visible from up to 500+ feet at night and blend into clothes and gear during the day. Made with durable 3M Scotch lite Reflective Material.
Sale
Bestseller No. 5
Sports Bluetooth Headphone Sweatproof, Wireless Headset for Running Over ear Earphone Neckband Earbuds Secure Fit for Runner and Workouts, Hands Free for All Bluetooth Devices. (Blue)
SUPERIOR HiFi SOUND: Equipped with advanced Bluetooth 4.1 chipset, intelligent CVC noise reduction technology, 10mm speakers and high quality microphone, enables you to enjoy superior HiFi music sound and crisp calls for Gym, Running and workout.
NECKBAND and OVER-EAR WEARING STYLE: The special behind-the-head wearing style, comfortable over-ear hooks and multi-size eartips for best fit in your ears during even the most vigorous workouts.
SWEATPROOF and LONG BATTERY LIFE for ALL DAY PLAY: 10 hours working / 180 hours standby battery life and sweatproof design enable you to listen music from your morning to evening workouts.
FLEXIBLE Memory FOLDABLE Wire: The flexible memory-wire adapts to the size of your head and provide you a perfect fit for a better listening experience.
UNIVERSAL BLUETOOTH HEADPHONES: Voice prompt, hands free talking /conversation function compatible with iPhone X/9/8/7/6 plus, Samsung, Galaxy S9, Note 8, TV, laptop, Kindle, tablet and other Bluetooth devices.
Sale
Bestseller No. 6
Phaiser BHS-730 Bluetooth Headphones Runner Headset Sport Earphones with Mic and Lifetime Sweatproof Guarantee - Wireless Earbuds for Running, Heliotrope
HD SOUND - 8mm Speakers combined with Bluetooth 4.1 create super accurate HD sound with powerful bass. The bullet-shaped Comply T-400 M memory foam tips provide Total Isolation from external noise.
MAGNETIC - Easily stow your Earbuds by wearing them around your neck. Instantly access your Earphones anytime without searching your pockets. Looks cool as well!
SWEAT PROOF - Say Goodbye to Water-Damage! Protected by Hydrophobic Nano Coating your Buds withstand sweaty workouts and will survive accidental dropping into water - Guaranteed!
SECURE FIT - The patented winged earphone tips hold your Buds in place during rigorous workouts. Over- and Under-Ear fit options included.
LIFETIME SWEATPROOF WARRANTY - We will replace your Earbuds in case they ever get damaged by sweat! No questions asked.
Bestseller No. 7
Small Bluetooth Headphones Wrap around Head - Sports Wireless Headset with Built in Microphone and Crystal-Clear Sound, Fold-able and Carried in the Purse, and 12-hour Battery Life, White
【Great if you can't stand earbuds】It would rest outside of your ears instead of within the ear canal. Ergonomic design of this headphone when you are on the treadmill, it stays in place so much better than earbuds. Wearing these with glasses is still comfortable. Would not getting ears ore like with earbuds.
【Extremely lightweight & compact】The headphones are light enough that you don't even notice them when go for a run with them on which makes running easier to get through with my music shuffle. Use these earphones for backs packing and in the gym. Can easily put them in the pocket. Can wear them with your head on a pillow or under a hat.
【Easy to control music & calling】Over the ear headphones have 4 control buttons, not two like in-ear ones. The right-hand earphone has controls to pick up calls, raise or lower volume, and skip ahead or go back a bit. Each button is indicated with a raised dot but if you take a minute to situate your finger on the dial it's easy to navigate. Experience true hands-free calling and enjoy music on the go. Calling is in stereo, call quality sounds like when you are holding a phone.
【Extend usability battery life with top notch sound】Headphones are arrived fully charged and ready to go out of the box. Use it several hours a day and charge it on Monday, the battery would last the whole week.
【Handy case included】The headphones come in a small travel case and the band that goes around the neck maintains a twisted position for compact storage when not being worn.
Sale
Bestseller No. 8
Plantronics BackBeat FIT Wireless Bluetooth Headphones - Waterproof Earbuds with On-Ear Controls for Running and Workout, Sport Grey
Flexible design fits comfortably and stays put for all levels of exercise with easy on-ear controls for calls and music.
Sweat proof and waterproof: Protected by a P2i Nano-coating, these headphones deliver sweat proof durability and meet the IP57 rating for withstanding fresh water up to one meter for 30 minutes.
Quick Charge Technology: Powers a week of workouts with up to eight hours of listening time and a 15 minute quick charge can power up to a full hour of listening.
Heart-pumping bass: Powerful speakers and custom codec deliver the heart-pumping bass and crisp highs of your music and only pause to let you take a call.
Wireless updates: Get the latest firmware improvements sent directly to your headphones from the free Plantronics Backbeat FIT Companion app.
Bestseller No. 9
Miccus New Bluetooth 5 Sports Headphones, Sweatproof IPX6 Wireless Headset, High Fidelity Deep Bass, Comfortable Secure in Ear Fit with Mic, 10H Long Battery Life (Steath Mini)
POWERFUL BLUETOOTH 5 - Delivers your bluetooth signal up to 66ft for the most stable reliable wireless connection. Focus on your workout instead of dropped or muffled audio from wind or other interference
HD SOUND WITH DEEP BASS - Enjoy talking on static free, clear calls and premium quality music with extra bass and crystal crisp treble.
ULTIMATE FIT & COMFORT - Your earphones stays in place thanks to an extremely light weight build, gentle over-ear wires and soft, snug, ergonomic earbuds. Best fit for men or women with S/M/L tips. Spend less time adjusting your headset and more on your activity
LONG LASTING, DURABLE, & WATER PROOF - 10 Hour Battery for all day music, podcasts, audio books, spotify, chatting & more. Passed rigorous tests to earn an IPX6 rating, including 3 minutes of powerful jets spraying 25 gallons of water per minute with no water penetration.
UNIVERSAL & EASY TO USE - Works with Pixel LG Samsung Sony Apple iphones & more. Never miss a call! Connect to 2 Bluetooth phones at the same time. Voice prompts confirm connection. Use the inline controls to take phone calls or change your music without touching your phone.
Bestseller No. 10
66 Audio - BTS PRO - Wireless Bluetooth Sports Headphones w/MotionControl for iOS and Android. 40 Hours Playback. 100 Feet Wireless Range. HD Stereo Sound
WIRELESS FREEDOM: Bluetooth 4.2 wireless headphones, featuring a noise cancelling microphone for crystal clear, hands-fee calls. Up to 100 feet of wireless range.
LONG LASTING BATTERY: BTS Pro does not quit - 40 hours of continuous playback and 400 hours of standby. Go from zero to 100 in no time with 90 Minute Quick Charge.
UNPARALLELED SOUND: 66 Audio's 66 SoundEngine delivers high-quality, studio-grade sound. Crisp highs, perfect mids and thunderous bases - it's your music, how you expect to hear it.
BUILT TO PERFORM: The BTS Pro headphones are ready to move when you move. Made with lightweight, advanced, flexible silicone, BTS Pro is designed to be tossed in your gym bag without ever showing fatigue.
"Over the ear 'phones for running? Believe it" - Jeff Dengate, Runner's World
Bestseller No. 11
Wireless Bluetooth Headphones, Runner Headset Sport Earphones Bass IPX7 Waterproof HD Stereo in Ear Earbuds Noise Cancelling Headsets
PREMIUM HD AUDIO PERFORMANCE - Featuring latest Bluetooth 4.1, CSR technology+EDR+A2DP+CVC6.0 passive noise canceling technology. The Bluetooth earbuds with volume control delivers astonishing acoustics with deep bass and high definition sound quality. Equipped with two pairs of large and small replacement ear, suitable for everyone.
IPX7 WATERPROOF DESIGN - IPX7-water-resistant shell and internal nano-coating provide a double layer of water protection. You can run in the rain or sweat-proof while running jogging hiking gym and exercising, all outdoor sports.
LONGEST BATTERY LIFE - 100mAh high-capacity lithium battery, charging time only 2 hours and can provide up to about 8 hours of call and play time. Micro USB charging cable, voice prompt notifications of incoming calls and phone numbers and more functions.
SUPER SOFT SECURITY HOOKS - Ergonomic and flexible in-ear design, super soft silicone over-ear hooks guarantees a firm, secure fit without hurting your ear, enables comfortable wearing experience without falling out. Light weight - only0.77 oz.
SIGNIFICANT NOISE REDUCTION & MULTI-POINT CONNECTION - CVC 6.0 technology reducing background noise, enable much more clear music and microphone sound. Can be paired with 2 different bluetooth devices simultaneously! Click the Orange Button to Buy Now!
Sale
Bestseller No. 12
Moffo Wireless Headphones Sport HD Stereo in Ear Earbuds IPX7 Sweatproof Waterproof Headset with Built-in Mic for Gym Running Workout 8 Hours Battery (Red&Black)
【SUPERB SOUND Quality】:headset and V4.1+EDR for stereo sound and superb bass sound. Clear high & low volume. Best wireless earbuds sound.Bulit-in mic with voice notification of incoming calls
【STATE OF THE ART EARPHONES DESIGN】:Best workout sweatproof ear buds. Great for Running, Jogging, Hiking, Biking, Gym etc. Stay in Ear Tech with Comfortable Ear Hook. Neckband design, no wires tangling, and it's easy to storage to your sports armband or arm package bag.
【UP TO 8 HOURS Music playing for full battery charge】:Super quick charge time with full charge light indication.The headphone battery status will be automatically displayed on the IOS Phone screen.
【WITH EASY TO USE BUTTONS】:Allows Skip/Play/Pause on your music tracks as well as all phone use without reaching your phone. Equipped with V4.1 technology, Can be connected with two devices simultaneously. Super quick pairing with Cellphone and other devices. Long distance operation ups to 10 m (33 feet) distance.
【COMFORTABLE FIT AND SWEATPROOF PROTECTION】:The wireless sports earbuds with comfortable ear hooks and IPX7 Water-resistant efficiently protects headphones from sweat and rain and ensure more guaranteed life span, perfect for running jogging hiking gym exercising and all outdoor activity.
Bestseller No. 13
Wireless Bluetooth Earphones, Noice Cancelling Earbuds Earplug Headphones for Sports Runner Workout Headsets with MIC Sweatproof & IPX6 Waterproof Bluetooth 5.0
【TT-BH07 Earbuds that work with the latest Bluetooth 5.0 technology】: AptX codec provides pure, CD-like high quality sound for compatible devices.Using the advanced wireless Bluetooth V5.0 technology to ensure signal stability, the farthest connection is 33 feet / 10 meters, can connect two devices at the same time, support most mobile operating systems, IOS, Android, Windows, saipan.
【Convenience Design】:The overall Convenience Design, built in magnet to avoid the winding of headphone wires. Hanging neck design reduces ear pressure. IPX 5 waterproof level to protect headphones from rain and sweat.Ultra light elastic memory material&flexible neck strap, never deformed and quickly restored, easy to carry on your neck, you will not even feel it. Really good for sports and outdoor entertainment.
【Long-Lasting Usage&Built-in Magnetic Design】: Up to 5 hours talk time / music time (Playtime varies according to volume level and audio content). It also has up to 100 hours of standby time and charges in 1-2 hours. You can attach the two earbuds together when not using. And wear like a necklace around your neck, a convenient way to carry around when you don't need them.
【Sweat Resistant】: Built for your active lifestyle.value - these earbuds are rated IPX 6 and can withstand dripping sweat. Ergonomic design allows for ultimate wearing comfort to match your active lifestyle.value like running, jogging, cycling, driving, camping,hiking, gym exercise and other outdoor sports.
【In-line Mic&Button Control】: Thanks to in-line mic and button control, you can enjoy hands-free phone calls, adjust volume and mange previous/next track conveniently. Provides 12 months hassle-free warranty to ensure the enjoyment of your purchase.
Bestseller No. 14
Sweatproof Sports Bluetooth Headphones KindaiYi Best Wireless in Ear Earbuds w/Mic IPX4 Waterproof Cordless Earphones Noise Cancelling Headsets for Gym Workout 10 Hours Play Time (Rose Gold)
【Best-in-calse sound】 8mm speakers combined with Bluetooth V4. 1 (apt HD standard) constantly create detailed, dynamic, spacious sound with powerful bass. The bullet-shaped provides this rose gold Bluetooth headphones total isolation from external noise.
【Magnetic clasp】 built-in magnetic, these cordless earbuds easily stow your earbuds as a necklace most easy access to your workout headphones anytime without searching your pockets. Free your hands when you are not using as well.
【Sweat resistance】 protected by Nano coating, This workout earbuds enable your buds almost impervious to sweaty situation and could survive a jogging trip during a rain.
【Secure fit】 The patented in ear ergonomic design makes your running headphones stay put over long periods and very comfortable to wear. Ultra-lightweight brings less pressure to sportsmen's and sportswomen's ear canal, it is ideal for runners, joggers, and athletes in general.
【Everlasting battery life】 adopting 150 mAh battery, This Bluetooth headphones for running Supports up to 10 hours Talk Time/ music time (playtime varies according to volume level and audio content).
Bestseller No. 15
TREBLAB XR500 Bluetooth Headphones, Best Wireless Earbuds for Sports, Running or Gym Workout. 2018 Updated Version. IPX7 Waterproof, Sweatproof, Secure-Fit Headset. Noise Cancelling Earphones w/ Mic
TRUE HD SOUND AND HIGH OUTPUT SPEAKERS - Our best wireless headphones for sports; latest Bluetooth 4.1 EDR technology with CD-like sound quality. Enjoy crisp treble and strong bass in the gym or on the go and feel the added motivation and improved results.
ULTIMATE HEADPHONES FOR SPORTS - eXtra comfortable, never fall off, thanks to XDrop ear-hooks. Whether you're a serious runner or just love hitting the gym from time to time, your search for the best WATERPROOF and SWEAT-PROOF sports headphones is over!
BLOCKS OUT THE NOISE - our passive noise-cancelling earbuds come with expandable foam ear-tips that block outside noise and let you to focus. LONGEST BATTERY - Keep on running with music or talking on the phone without a recharge for up to 8 hours!
ENHANCED CONNECTIVITY AND PAIRING - Pair wireless earbuds to an iPhone, iPad or Android device easily in literally 5 seconds. CALLS MANAGEMENT - Just touch a button when someone's calling, and to hang up.
Make everything you do more fun with XR500 Bluetooth earphones or we'll refund you! For California Residents Only: Warning - Cancer and Reproductive Harm - P65Warnings ca gov