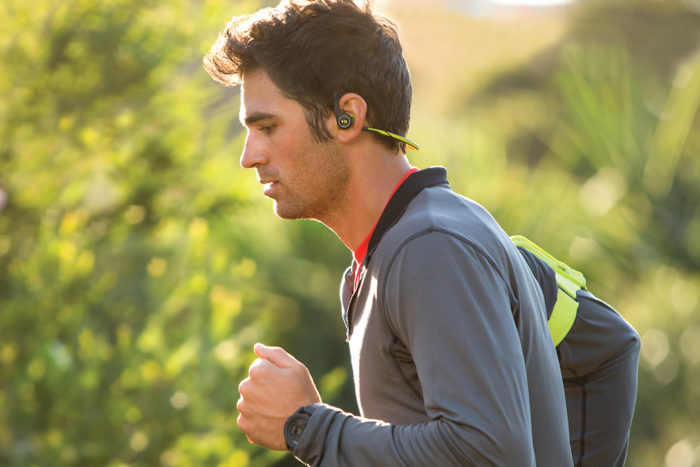 Before we take a look at the top wireless headphones for running, I have a confession to make.
I'm not quite sure how it happened, but over the last couple of years I have developed a growing fondness for running. I used to absolutely hate it…you know because it's cardio and all. The change was gradual, starting out with just an impromptu (and somewhat accidental) brisk mile jog once in awhile. The next thing you know I'm planning how many running events I can fit into my Summer. Wait…what? How did that happen?
I'm by no means an elegant runner.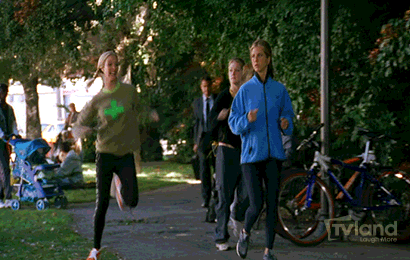 I'm not a fast runner, and I definitely can't run incredibly far.
That being said, I do thoroughly enjoy the post-run sense of accomplishment, and positive vibes that a good run provides me with.
There's just something about putting on my headphones and focusing on something so simple as keeping my legs moving that just melts away the stresses of the day in the moment, and makes the challenges after running that much more manageable.
Then of course there are the other notable benefits that running provides including improving your overall health, preventing certain diseases, weight loss, confidence building, stress relief, and even depression management.
Beyond that, did you know that there's a decent amount of research supporting the idea that music can actually improve your workouts?
A number of studies have suggested that listening to music can actually make you run faster too. Some researchers have suggested that music can be used very effectively as a synchronous mode, which means that you synchronize your stride to the rhythm in order to gain a positive effect (insert crazy fast techno beat). Others have suggested that music reduces our perception of exertion, which has the effect of making the effort seem less strenuous.
Technology for has also been a big source of motivation. As soon as a realized that free apps like Runkeeper could actually track your runs AND show how you performed in comparison to other runs that you've done, I was hooked in a big way. It was like a little self competition was the last thing I needed to be truly motivated to start being consistent. The audio ques are also a HUGE help because they provide real time feedback regarding your performance, as long as you're running with a good pair of trusty headphones.
I HAVE to have my headphones, but one of the problems I had when I first started running was finding a quality pair of headphones that didn't break (eventually only working in one ear – I hate that), OR break the bank.
The 3 most important factors I consider when choosing a pair of headphones for running are:
Wireless – They HAVE to be wireless (cords are so 90s) – and my clumsy ass tends to get tangled in cords.
Sound quality – I like a little bit of bass. They can't sound too tinny, and they better sound good cranked.
Price – They can't break the bank
With those 3 considerations in mind we've compiled a list of the best 15 wireless (Bluetooth) sports headphones for running.
Sale
Bestseller No. 1
Runner 60 Wireless Running Earbuds, Over Ear Hooks, 80-Hour Long Battery Life, Water-Resistant Wireless Running Headphones. Bass Boost, Bluetooth 5 Wireless Charging Case, for Runners
【Fully Water Resistant】Full IPX-7 rated waterproofing allows you go for long runs and hikes in the rain and snow. Sweat all you want or use these as shower headphones or boat earphones! The wireless earbud over ear hooks keep them in place! [NOTE: Not designed for swimming]
【80 Hour Long Battery Life】Never run out of battery during a workout again! The earbuds can play music for 8 hours straight, and the charging case will recharge them 9 more times for a total of 80 hours of playtime
【Bass Mode Built-In】Easily switch to bass mode to give yourself the boost you need to finish an intense workout. Bass mode cranks the bass while preventing any distortion. When you don't want heavy bass, switch to Back Bay's Signature sound
【Dual Microphones】Take cordless calls and control your music without ever touching your iPhone or Android. The two built-in mics give you the freedom of cordless phone calls. You can take phone calls, Zoom, or Skype with a single earbud or both
【Wireless Music Controls】Easily control volume, skip songs, pause/play music, answer calls, and activate Siri and Google Voice Assistant without ever touching your phone! By tapping on the earpiece button, you have full control over your audio
Sale
Bestseller No. 2
Bluetooth Headphones,Wireless Earbuds IPX7 Waterproof Sports Earphones 9H Playtime with Mic HD Stereo Sound Sweatproof in-Ear Earbuds Noise Cancelling Headsets Gym Running Workout
IPX7 waterproof,Adopting highly sealed shell + nano-coating waterproof technology, its waterproof performance reaches IPX7 waterproof standard, and it is not afraid of sweat attack even if it is used in severe sports. Great for running, hiking, cycling, fitness, yoga, travel, gym etc.
Excellent sound quality, headset and Bluetooth 5.1 for stereo sound and superb bass sound. Clear high & low volume. Excellent wireless earbuds sound.Bulit-in mic with voice notification of incoming calls.
Up to 9 hours ,music playing for full battery charge. Super quick charge time with full charge light indication.The headphone battery status will be automatically displayed on the IOS Phone screen.
With easy to use button ,Allows skip/play/pause on your music tracks as well as all phone use without reaching your phone. Up to 30ft Bluetooth range in the open space and 10ft in the obstacles space. Can be connected with two devices Simultaneously. Super quick pairing with android, IOS and other bluetooth devices.
State of the art earphones design, Best workout sweatproof bluetooth ear buds. Great for Running, Jogging, Hiking, Biking, Gym etc. Stay in Ear Tech with Comfortable Ear Hook. Neckband design, no wires tangling, and it's easy to storage to your sports armband or arm package bag.
Sale
Bestseller No. 3
APEKX Bluetooth Headphones True Wireless Earbuds with Charging Case IPX7 Waterproof Stereo Sound Earphones Built-in Mic in-Ear Headsets Deep Bass for Sport Running Green
【SPORTS DESIGN】APEKX BE1032 true wireless earbuds bring you cord-free and hands-free experience. Secure fit & comfortable & IPX7 waterproof design makes the earbuds perfect for sports. Without hassle wire, free your hands among prolonged exercise.
【LASTING LONG PLAY/TALK TIME】Premium quality lithium accumulator, portable charging case, both of them allow you enjoy the music on-the-go for 22 hours.
【WONDERFUL MUSIC QUALITY】Bluetooth 5.0 technology makes the transmission stably and build-in high-quality noise-canceling mic makes talking and listening simply. You can immerse the stereo during exercising.
【AUTO CHARGING】Magnetic Charging case, easy to store earbuds. Put both earbuds back into the charging case, earbuds will power off and charge automatically that you don't need to worry about forgetting charging for them.
【Friendly Customer Service】With 1 Year Warranty, 30 days no-questions-asked return policy and lifetime support from our friendly customer service. Choose the APEKX wireless in ear headphones worry free today.
Sale
Bestseller No. 4
Wireless Headphones, Otium Bluetooth Running Headphones Sports Earbuds, IPX7 Waterproof Stereo Earphones for Gym Running 10 Hours Playtime Noise Cancelling Headsets
True HD Beats High Fidelity Sound.Update Bluetooth Headphones own LATEST Bluetooth 5.1 CSR technology and IMPROVE acoustic components that produce incredible sound quality with deep bass and crystal clear treble.
IPX-7 Waterproof Rating.With ergonomic design and silicone ear hooks, wireless headphones secure stay on your ears, feel great to wear and will never fall out. Upgraded Waterproof Rating, 100% prevents ordinary splashing water and rain.
Longest Battery Life.The new improved lithium polymer battery allows seamless enjoyment of music for up to 9 hours and 240 hours stand-by with a charge of only 1.5 hours. Neckband design prevents troublesome wires from tangling during your workout.
CVC 6.0 Noise Suppression Technology. Connect seamlessly with all Bluetooth enabled devices up to 30 feet (10m) away. With Noise Suppression Technology reduce background noise. So you can focus on your favorite music, no matter where you are.
Sale
Bestseller No. 5
Villain Sport Headphones | Running Headphones | Workout Headphones | Gym Headphones | Wireless Bluetooth Earbuds IPX7 HiFi HD Sound with Thumping Bass
[NEWEST BLUETOOTH 5. 0] - Adopt the most advanced Bluetooth 5. 0 technology. VILLAIN X6 Supports HSP, HFP, A2DP, AVRCP. Fast and stable transmission without tangling.
[aptX Hi-Fi Dolby Sound] - Dance to the beats with our High-Fidelity stereo sound & aptX codec Ð VILLAIN earbuds offer an incredible balance of style & performance at an excellent price, compatible with all iPhone and Android smartphones.
[RICH TREBLE & THUMPING BASS] - VILLAIN earphones are powered by 10 mm composite drivers. The ultra-elastic outer ring produces deep thumping bass and a lightweight and flexible composite Bio-Cellulose dome delivers midst and highs with enhanced clarity and pumps you up for the workout ahead.
[WATERPROOF - IPX7 Rated] Ð VILLAIN earbuds are ideal for intensive workout. Push yourself during your workout without fear of sweat and rain damaging your earbuds.
[PLAYTIME] - Up to 9 hours of listening (at 80% volume) gives you the power and motivation to fuel over one week of workouts. When youÕre in a rush, a 10-minute charge will provide you with up to 2 hours of continuous playtime.
Bestseller No. 6
Bluetooth Running Headphones Workout Earbuds Wireless Earphones Stereo Sweatproof Wireless Earbuds with Mic Noise Cancelling Headset for Workout, Running, Gym, 15 Hours Play Time (Modern)…
【Latest Bluetooth 5.0 Running Headphones】Provide excellent RF stability, play music more smoothly. It supports various Bluetooth-enabled devices and you can stay connected to 2 phones at the same time
【Cvc6.0 Noise Reduction Technology】Through the microphone noise cancellation software, it provides noise cancellation for the echo of the call, creating a better call effect
【Long Playtime】Only 2 hours charge gives you up to 9 hours talk time/audio play time, enough to power your workouts with music for a week
【Ergonomic Design】MTY bluetooth headphones is a great combination of comfort and stability with ear-hook and in-ear fitting designed for strenuous workouts for outdoor or home
【1 Year Warranty】If you have any questions about the product, please contact us. Please review Amazon's return policy, which usually offers free returns within 30 days of receipt
Bestseller No. 7
Sport in-Ear TWS Headphone APEKX True Wireless Bluetooth 5.1 Sports Earphone, IPX7 Waterproof Stereo Sound, Built-in Mic Earphones for Sports Gym Workouts(Black)
-Lasting long play/talk time: Premium quality lithium accumulator, portable charging case, both of them allow you enjoy the music on-the-go for 24 hours.
-Latest Bluetooth 5.1 EDR Technology provide stable,faster connections to your devices and ensures wide compatibility,low latency and can connect it with 2 devices simultaneously.
-Fully Sweatproof: Keep playing, running, and dancing in any conditions. APEKX wireless earbuds effortlessly resist sweat and rain, and can even be rinsed clean under the tap.
-Interchangeable over-ear earhooks: In order to ensure comfort of use and stay firmly in your ears,we offer another pair of earhooks in the package for you.
- Friendly Customer Service: With 1 Year Warranty, 30 days return policy and lifetime support from our friendly customer service. Choose the APEKX wireless in ear headphones worry free today.
Bestseller No. 8
TOZO T6 True Wireless Earbuds Bluetooth Headphones Touch Control with Wireless Charging Case IPX8 Waterproof Stereo Earphones in-Ear Built-in Mic Headset Premium Deep Bass for Sport Black
[Smart Touch Control] Specific touch control function makes it more convenient, tap once to play/pause music and answer calls, double tap to skip forward/backward, hold to adjust the volume. You can easily control it without operating the phone.
[BLUETOOTH 5. 0] Adopt the advanced Bluetooth 5. 0 technology. TOZO T6 Support HSP, HFP, A2DP, AVRCP, which greatly improve the transmission speed and providing you with a low-latency listening experience.
[One step pairing] Pick up 2 headsets from charging case and they will connect each other automatically, then only one step easily enter mobile phone Bluetooth setting to pair the earbuds.
[IPX8 waterproof] Earbuds and charging case inner Nano-coating makes it possible to waterproof for 1 meters deep for 30 minutes. It is suitable for sports to prevent water. Ideal for sweating it out at the gym . Earbuds and case even can be washed by water and soap.
[Charge on the go] Playtime lasts for over 6 hours from single charge and total 30 hours with charging case. Enjoy fast charging, to fully charge the rechargerable case only 55 minutes via cable or less than 2 hours via wireless charger. Providing convenient charging way with no strings attached.
Bestseller No. 9
Women's Baseball Cap for Men Unisex Cotton Summer Adjustable Golf Cap Bluetooth Headphone Runner Wireless Smart Outdoor Sport Hat Mother's Birthday Gifts Idea for Boys, Girls, Teen, Students, Dad…
【3 in 1 Bluetooth Headphones & Sports Speaker & Sunshade 】 Listen to music without having to wear additional headphones Also you won't miss any callings.Perfect suitable for sunshading&cool ,fishing,running,skateboarding,mountaineering, camping,skiing and other outdoor activities.
【Update V5.0 Wireless Bluetooth】Wireless Music hat pair with any Bluetooth-enabled smartphone or tablet devices quicker & easier. 45 feet wireless range, provides up to 6 hours of Playing Music or Talking with a 48 hours standby time.
【Comfy & Washable & Cool】 100% cotton fabric of hat makes you feel comfortable and breathable. The classic hat shape makes you look very cool. And it is easy-to-remove and reinstall so that you can wash your hat. Hand-washable after removing the Bluetooth modules.
【Adjustable & Convenient】The hat has desgin the small pockets for earplugs when you don't need it. Also it is adjustable. Very easy and convient to use.
【BEST GIFT】This one-size-fits-all bluetooth hat is the best gift for men, women, boys and girls, friends,parents,lovers on birthday,Valentine's Day, Thanksgiving day, Halloween,Christmas day ,New Year's Day ...
Bestseller No. 10
SENSO Bluetooth Headphones, Best Wireless Sports Earphones w/Mic IPX7 Waterproof HD Stereo Sweatproof Earbuds for Gym Running Workout 8 Hour Battery Noise Cancelling Headsets (Black Blue)
TRUE HD HIGH FIDELITY SOUND Featuring latest Bluetooth 4.1 CSR technology and state of the art acoustic components that produce incredible sound quality with deep bass and crystal clear treble.
COMFORTABLE AND SECURE FIT WITH IPX-7 WATERPROOF RATING - ActivBuds feature Ergonomically designed flexible ear hooks with gel flex silicone earbuds to ensure your headphones stay comfortably firm in place to guarantee fatigue free ears and tangle free comfort.
LONGEST BATTERY LIFE - The new and improved lithium polymer battery allows seamless enjoyment of music for up to 8 hours and 240 hours stand-by with a quick charge of only 1.5 hours.
BLUETOOTH V4.1 WIRELESS TECHNOLOGY WITH CVC 6.0 NOISE SUPPRESSION TECHNOLOGY - Connect seamlessly with all Bluetooth enabled devices up to 30 feet away. With Noise Suppression technology focus on your favorite music and answer calls without skips or missed words.
1 YEAR WARRANTY AND BONUS ITEMS - Bonus Accessories with 1-Year Manufacturer's Warranty and 30 days no-questions-asked return policy. Value for money guaranteed, Buy the Senso ActiveBuds worry free today.
Bestseller No. 11
AfterShokz OpenMove Wireless Bone Conduction Open-Ear Bluetooth Headphones Includes Pack
Open-Ear Design - Patented bone conduction technology delivers audio through the cheekbone, keeping you connected and aware of your surroundings. Designed with a titanium band for slim, lightweight and comfortable wear, all-day, everyday.
Versatile Headphones - Wireless Bluetooth 5.0 connectivity offers convenient multipoint pairing compatible with your iOS and Android Bluetooth-ready devices. Pairs with smartphones, tablets, Mac and PC computers and laptops.
Durable and Sweatproof - These IP55 certified headphones repel sweat, dust, and moisture, making them the perfect workout partner for any sports, fitness or running enthusiast. Built to withstand even the rainiest weather.
Six-Hour Battery Life - 6 hours of continuous music, podcasts and calls on a single charge. Enjoy balanced audio, optimal volume and rich bass anytime, anywhere with this premium OpenMove headset.
Exclusive Sticker Skin Pack - Includes 5 exclusive to Amazon sticker skins. The 5 versatile designs offer easy headphone customization.
Bestseller No. 12
COMISO Wireless Earbuds, True Wireless in Ear Bluetooth 5.0 with Microphone, Deep Bass, IPX7 Waterproof Loud Voice Sport Earphones with Charging Case for Outdoor Running Gym Workout (Pink)
[Ergonomic Comfort Sports Design] The true wireless earbuds included soft ears hooks are specially designed, which can fully fit your ears contours and maximally guarantee a comfortable wearing experience without falling out. Thanks for the IPX7 waterproof sweatproof design, enjoy your music even while hiking running on rainy days. Due to the button operation system, you don't have to worry about misoperation like sudden pause by accidental touch.
[42 Hours Upgraded Ultra Long Playback] Bluetooth 5.0 chip with lower power consumption, Comiso Bluetooth headphones can offer 6 hours of continuous playtime. In addition, the 800mAh charging case provide wireless charging 6 times.
[Rich Bass Sound & HD Binaural Call] The built-in premium powerful speakers will provide an excellent listening experience. Produce Incredible Sound Quality with Deep Bass and Crystal Crisp Treble. Hands-free headset with noice cancellation mics can make the call much easier and hear clearer.
[True Wireless Stereo & Mono Mode] This latest wireless pairing technology helps you seamlessly and optionally switch between Stereo Mode and Mono Mode. With our wireless earphones, you don't have to reconnect them with your phone and click again to play music if you put one of the earbuds back into the case.
[One Step Auto Pairing] Pick up the COMISO sports earphones from charging case, they will power on and pair with each other automatically. Then active your phone's bluetooth to search "COMISO E6" to connect. After the first successful connection, the sports earbuds will automatically connect to the last paired device when reboot. Widely compatible with your iPhone Tablet and any Android portable devices with Bluetooth system. Wireless earphones for work, home and office.
Sale
Bestseller No. 13
ZVOLTZ Pro Wireless Earbuds Sport Running Ear Hooks Bluetooth Earphone 5.0 in-Ear Wireless Headphones IPX5 Sweat Resistance w/Mic & Charging Case, Built-in Battery Pack for Workout Gym Sport, Black
Ultra-Long Battery Life - Superior battery life in terms of longevity and reliability. Enjoy 3.5 hrs. of playback time on a single charge. Use the portable charging case for up to 80 full hours of extra listening time. Listen longer than the competition and charge up fast with a 4 hr. charge time.
Built-In Battery Pack - Transform an ordinary charging case into an actual battery pack. With a separate Type-A Cable, plug in various devices such as smartphones and tablets and instantly begin charging them. Power up to 80% extra battery life into a standard iPhone 11!
One Touch Controls - With an ultra-responsive and One Touch sensitive MFB, experience the ability to control every aspect of the earbuds with the press of a button. Control basic play/pause and next/skip features, along with instant volume control.
Snug & Secure Design - Simply wrap the earloops around the back of your ears for a snug and secure fit. Experience earbuds with a universal fit for the majority of ears. A sleek and stylish black design sets you apart from the crowd with a look of the future.
What's in the box: sports earbuds, battery charging case, usb-c to standard usb charging cable and user manual.
Bestseller No. 14
Bone Conduction Headphones, IPX8 Waterproof Headphones with MP3 Player Built-in 8G Memory, Bluetooth Open Ear Headphones with CVC6.0 Mic for Swimming Running Cycling Driving Gym
【Bone Conduction Open-ear Design】Naenka bone conduction headphones conducted advanced bone conduction technology, which delivers audio through the cheekbone instead of air, bone conduction Technology can guarantee the authenticity of the sound to the greatest extent and keeping you connected and aware of your surroundings, especially suitable for outdoor sports.
【8 Hour Play & Magnetic Charging】The battery capacity of the running headphones is 230 mAh and battery life is 8 hours(for 60% volume music play), which can meet your long time sports use. The bone headphones use magnetic fast charging technology, which can be fully charged in 1.5 hours, Which can fully meet your needs for continuous use of headphones in outdoors.
【IPx8 Waterproof Headphones】Naenka Swimming headphones certified with IPx8 waterproof, fully resistant to sweat, moisture, and dust. You can use it in any sports indoors or outdoors, Including swimming, snorkeling, surfing(Supports diving up to 3 meters deep and recommends using MP3 Player mode underwater)
【Wireless Headphones & MP3 Player】Bluetooth 5.0 connectivity offers convenient multipoint pairing compatible with your iOS and Android Bluetooth-ready devices. Pairs with smartphones, tablets, Mac and PC computers and laptops. Double-click the power button to switch to MP3 mode, 8G memory can store enough songs, let music with you by getting rid of mobile phones.
【Leakage Reduction Sound & Shocking Sound】Naenka bone headphones have exclusive OT leakage reduction 2.0 technology, less vibration, more comfortable while wearing. Seamless and non-porous design, reduce sound leakage 90% and protect your privacy. A 16mm dynamic vibrator speaker, the sound quality is more open, the bass is thick, the mid-to-treble is fine and the penetrating power.
Sale
Bestseller No. 15
Wireless Beanie Hat,Unisex Beanie Headphones Christmas Tech Gifts for Men Women Teen Boys Girls caps
Great Value w/ Face Cover - The wireless men's cycling caps comes with polyester fiber face cover,excellent keep warm effect,lightweight,breathable,comfortable,it can protect your face,mouth and ears well, give you better protection in cold whether.Good suitable for all kinds of outdoor sports, such as skiing, running, cycling, rock climbing, motorcycle, flogging and fishing.
Longest Working Time - The great battery offers continous working hours upto 21-22 hours per recharge(depends on volume).
The Great Connectivity - Our wireless beanie offer the great chip sync to any wireless enabled device in seconds upto 36 feet without connectivity dropping. Much better connection than others,the sound will not cut in and out.
The Biggest Volume Output - The two speakers offer the great sound quality and the biggest volume output upto 120DB to enable you enjoy your playlist and take your calls in any noisy environment.Unique gifts for dad men women him her.
Double Thicker,Super Warm,Washable,Unisex - The wireless beanie headphone made of double-knit material weighs 2.8oz,keep your head warm in cold weather.Washable,unisex,soft and elastic mearial fits most head.It is an ideal stocking stuffers gifts,christmas gifts for men women dad mom boyfriend girlfriend teen girl teenager gifts teen boys gifts tech gifts mens stocking stuffer.Item Model Number: XKZBT-02.