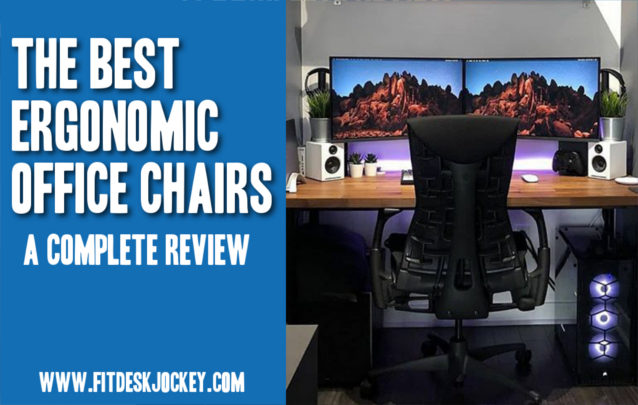 Working a nine-to-five desk job may have its perks, but without the right ergonomic office chair, you run the risk of chronic back pain, fatigue, lack of focus, and even health problems. Sitting down for too long can also result in low energy expenditure, slower metabolism, back and spine injuries, and bad posture. This is especially true for aspiring entrepreneurs who often leave one desk at the end of the day, only to sit for hours at another burning the midnight oil as they work on their side hustle.
In order to reduce such risks, you have to invest in a high-quality office chair with an ergonomic design. This may not be the easiest task, however, as the market is deluged with a wide range of ergonomic chairs, making it extremely hard to choose.
The good news is that we've done the research on your behalf and compiled a list of the 6 best ergonomic office chairs on the market. We've also made sure to meet every possible budget so that your budget doesn't stand in the way of your comfort.
Herman Miller Embody Ergonomic Office Chair | Fully Adjustable Arms and Carpet Casters | Black Balance
BALANCE has a dimple/golf ball look and prevents heat buildup
INNOVATIVE ERGONOMIC DESIGN - More than 20 physicians and PhDs in the fields of biomechanics, vision, physical therapy, and ergonomics contributed their expertise to help guide the development of this chair. As a result, Embody has set a new benchmark for pressure distribution, natural alignment, and support for healthy movement in ergonomic seating.
BACKFIT ADJUSTMENT - Embody's back is designed like a human's, with a central spine and flexible ribs. The Backfit adjustment allows you to position the backrest in line with your spine's natural curve, so you achieve a neutral, balanced posture. Once the chair is tuned to fit you, the backrest adapts to your movement, adjusting automatically to your shifting positions. Whether you lean forward or recline, support remains constant.
FEATURES: tilt limiter, adjustable Seat Depth, fully adjustable arms, graphite base and frame, Black arm pads, and carpet casters
PIXELATED SUPPORT - You feel Embody's Pixelated Support the moment you sit down—a sense that you are floating, yet perfectly balanced. Thanks to a dynamic matrix of pixels, Embody's seat and back surfaces automatically conform to your body's micro-movements, distributing your weight evenly as you sit. This reduces pressure and encourages movement, both of which are key to maintaining healthy circulation and focus.
If you work a job that requires you to be seated in front of a computer screen for lengthy periods of time, you start to develop familiarity with backaches. The Herman Miller Embody chair grants the comfort and relief from pain required to handle such demanding sitting marathons.
This top-of-the-line ergonomic office chair is made from sustainable, non-toxic materials. We like to think of this unit not just as a chair, but as a throne, because of how prestigious it looks from a distance. As you zoom into the more intricate details of the chair, you realize how well-built it is.
The Herman Miller Embody Chair is comprised of four different layers. The bottom is a series of flexible, plastic bands that help provide suspension, while the second layer is a supporting sheet of coils. As for the third layer, it's basically a hexagonal-rings system that shifts based on weight.
The fourth and final layer of the chair is a layer of breathable mesh that provides comfort for the user and keeps the chair well-ventilated for a cool feel. You can easily adjust the height and the incline of the chair to accommodate your body and reduce the risks of straining.
Arguably the most vital component of the Embody is its backrest. As Herman Miller claims, this chair contains a matrix of pixels that provides dynamic surfaces that conform to the movements of your body. This matrix also serves in distributing the body weight evenly to eliminate strain.
We'd say that the only predicament you're going to face when considering this chair is its insane price tag. Is this chair worth spending that much of your own money on? Absolutely! Maybe you should convince your boss to buy it for you by telling him that you'll get more work done on it.
Positives:
Extremely well-built construction that will last for years
Flexible backrest that provides support in any position
Adjustable seat depth accommodate varying body sizes
The chair is eco-friendly and 95% recyclable to the boot
The Embody is backed by a whopping 12-year warranty
Negatives:
The most expensive ergonomic office chair on this list
We would have liked to see it feature a dedicated headrest
Sale
Steelcase Gesture Office Chair - Cogent: Connect Graphite Fabric, Low Seat Height, Shell Back, Light on Light Frame, Polished Aluminum Base
Connect fabric is 100% polyester
Wheels for carpet flooring
Ergonomic chair – features include adjustable seat depth, fully adjustable arms, pneumatic seat height adjustment, recline tension adjustment, 4 position recline lock, shell back and seat, light/light frame color scheme
All day comfort and back support - Gesture's seat and back move as a synchronized system, following your body as you move throughout the day to ensure long-term support
Quality & durability - designed to withstand 24/7 use while providing maximum comfort
Established back in 1912, Steelcase is one of the most renowned office furniture manufacturers and one that has years of experience under its belt. From top to bottom, the Gesture chair is an extremely well put together chair, which is expected from such top-dollar chairs like this one.
Despite having a few plastic components like its brother in arms the Steelcase Leap Chair, this chair is remarkably solid and is guaranteed to last for years. The utilized plastic components are mainly there for flexibility purposes or to cover and protect the metallic components of the chair.
One of the reasons behind the Gesture's popularity is that the chair is shipped fully assembled. So basically, the only thing you need to do when you receive this chair is to unpack it and just set it up at your desk. If you despise assembling things, this is definitely the chair for you.
There's a bit of a subjective gripe when it comes to the Gesture chair, which is that it lacks thick padding. This doesn't necessarily mean that the chair doesn't provide adequate comfort, it's just geared more towards providing great support, which is what it all should be about.
The chair features a tall backrest that offers great back support. And unlike a lot of chairs on the market, the Gesture doesn't have any uncomfortable pressure points. Overall, it provides a very convenient flexing for your upper body. However, there's a bit of movement even when locked.
The best thing about this chair by far is the adjustable arms. It's clear that Steelcase put a lot of thought and effort into creating arms that can accommodate different postures. The arms on this chair go beyond the ergonomics standard set by the impressive Steelcase Leap Chair.
Positives:
This is a highly accommodating, one-size fits most chair
Extremely sturdy and requires no assembly whatsoever
This chair arguably features the ultimate adjustable arms
The height of the chair is adjustable to ensure comfort
Backed by one of the best warranties in this department
Negatives:
The chair doesn't feature a height-adjustable backrest
The back isn't really stable even when locked upright
Herman Miller Sayl Chair, Black Rhythm
Frameless Suspension Back offers sitters a Healthy balance between support and freedom of movement
Features: tilt limiter, stationary Seat Depth and arms, Black base and frame, and carpet casters
Breathable Unframed Back keeps you cool while you work
Minimal design that has minimal impact on the environment
Herman Miller makes a second entry on our list with the Sayl Chair, proving that quality doesn't need to come at a steep price tag. The very first thing you'll notice about this chair is its unique design which was inspired by suspension bridges.
The design may seem fragile from the outside looking in, but we can guarantee that this design of this chair can rival some of the toughest products on the market in terms of sturdiness. Also, the open design grants this chair better ventilation, keeping your body cool and comfortable.
The Sayl chair features a wide range of customizable options and it's available in a nice array of colors. However, one problem with the basic model is that it's not equipped with armrests, you'll have to get them individually. Keep in mind that this is the most affordable Herman Miller unit.
Some of the most notable functions that the Sayl boasts is the forward tilt function, which is very hard to see in a chair of such an affordable price. This function isn't even present in the majority of high-end chairs on the market. It also offers adjustable depth and a tilt limiting function.
The Herman Miller Sayl Chair has a weight limit of 350 pounds, which makes it suitable for most sizes. And it terms of appearance, we can't help but think of this chair as one of the best-looking models on this list. It's just so sleek, modern, and aesthetically pleasing to look at.
To make this an even better deal, the Herman Miller Sayl Chair is backed by a 12-year warranty, which is a testament to how confident the manufacturer is in the product. It may not be as good as the Embody, but it definitely blew us away with its performance considering its price tag.
Positives:
The unframed back allows for outstanding ventilation
The design of this chair promotes great body posture
By far one of the best-looking office chairs on this list
Comes at a fairly affordable price for the value it offers
The chair comes with an unparalleled 12-year warranty
Negatives:
The armrests are likely to suffer from erosion over time
While impressive, the design isn't the most universal
Sale
Serta Ergonomic Executive Office Motion Technology, Adjustable Mid Back Desk Chair with Lumbar Support, Black Bonded Leather
COMFORTABLE AND SUPPORTIVE: Ergonomic office chair maximizes lower back support and comfort while seated
BACK IN MOTION TECHNOLOGY: Tilts the seat forward to promote strength and flexibility in your core
PERFORMANCE FEATURES: Push-button adjustable armrests and convenient cable-actuated levers
GREAT FOR WORK OR PLAY: Helps keep you comfortable and relaxed whether you're working or kicking back
VERSATILE AND MOBILE: Adjustable height settings, convenient swivel design, and large-diameter rolling casters
You don't have to spend a pretty penny in order to protect yourself from the effects of prolonged sitting. The Serta Mid-Back Office Chair offers a premium level of comfort and support that's on a par with some of the more expensive models on the market at a much more affordable price.
This Serta chair features an innovative ergonomic design that functions in a different fashion than other chairs on the market. It's designed to tilt the pelvis forward whenever you lean back, which helps keep the back in a neutral position and reduces the risk of strain and injury.
In addition, this unique design can help improve the tilt motion of your pelvis and improve blood circulation. As a result, hours of sitting will be filled with relief and comfort, rather than strain and pain. Furthermore, proper posture and body mechanics are promoted.
As far as comfort, the chair is cushioned with multiple layers of pillows that help keep vital parts of the body supported for a more enjoyable seating experience. It's almost unbelievable that an ergonomic chair of this price can provide that much comfort and support.
The tilt and height of the Serta Mid-Back Office Chair can be easily adjusted to meet the user's requirements. The Serta chair features a pneumatic lift that ensures perfect positioning for the feet with the aid of adjustable tension and its lockout feature.
The innovation doesn't stop there, as the chair features highly convenient arm controls that are pivotal for ensuring adequate support for the user's hands, wrists, and forearms. Overall, it's just not possible to lose with this chair, but we would have loved a lengthier warranty cover.
Positives:
The chair is covered with premium, eco-friendly leather
Equipped with innovative tilt technology for improved posture
The armrests are highly adjustable and extremely comfortable
The chair is padded with pillows to ensure maximum comfort
The assembly instructions are simple and easy to follow
Negatives:
The chair falls short in the warranty department (1-year warranty)
The chair's pneumatics are a bit too tall for shorter people
Finding a cheap yet highly efficient office chair is almost the stuff of dreams. However, the Alera Elusion Swivel Chair breaks this mold completely and provides admirable value for the price. It's highly durable and can stand some serious wear and tear. It's also significantly comfortable.
The chair is made of breathable mesh that provides adequate support for your lumbar area and buttocks, and it also efficiently achieved proper ventilation to keep your body cool. The chair has a four-spoke frame that helps distribute the weight of the user evenly across its surface.
Sadly, the caster wheels seem to be of poor quality. Also, a lot of the components used to make this chair are made of plastic. As a result, the Alera Elusion doesn't boast a significant maximum weight limit at just 250 pounds. If you weigh below that, you shouldn't encounter any problems.
In terms of function, the seat is properly padded. In fact, we'd say that it's heavily padded. Don't be alarmed, however, the padding doesn't allow users to sink into the seat, meaning that you're going to be extremely comfortable sitting on this chair without compromising your body posture.
Functionality-wise, the Alera Elusion, to our surprise, is highly customizable. You can adjust the tilt backward and forwards, you can easily adjust the recline, and you can lock it at whichever angle you desire. Even more surprising, the chair features a built-in seat-gliding functionality.
Positives:
Provides remarkable comfort at an affordable price
It's made of mesh fabric that's extremely breathable
The seat is heavily padded for maximum comfort
Almost every component in this chair is adjustable
Negatives:
The adjustment controls aren't the most advanced
We're not really big fans of the chair's aesthetics
Sale
The High Back Chair from Flash Furniture is a remarkable office chair for the simple fact that it's available at an incredibly affordable price tag all whilst providing remarkable value. Of course, it won't be as top-notch as the above-mentioned products, but it's definitely worth your money.
The High Back Chair features built-in lumbar support. Not only that, but it also offers support for your upper and middle back regions. The backrest is made of ventilated mesh, promoting great airflow to keep you from sweating while sitting for extended periods of time.
The chair features flip-up armrests that are well-padded. Their flip-up functionality allows you to move them out of the way of your work. In addition, the chair has a tension-adjustment function, a tilt locking function, and a height adjustment knob for convenience.
The great thing about this chair is that it's equipped with a highly-durable Nylon base with dual caster wheels for ease of mobility. Moreover, the High Back boasts a 360-degree swivel function that allows for smooth rotation. The chair is featured in task chair and drafting chair variants.
Positives:
A highly affordable and extremely efficient office chair
Boasts a wide range of adjustable ergonomic features
Features a modern mesh design that's well-ventilated
The armrests have flip-up functionality for convenience
Negatives:
The construction isn't as durable as higher-end models
The weight limit falls short compared to other desk chairs
Things to Consider Before Buying an Office Chair
Before heading out to buy an ergonomic office chair, there are a few crucial factors that must be considered in order to get the best bang for your buck. These factors are:
Height Adjustability
Your office chair should feature height adjustability so that it can accommodate your own height and provide the comfort required to sit through extended periods of time. Ideally, your thighs are to be placed in a horizontal fashion to the floor. We'd highly recommend going for an office chair that features pneumatic adjustment lever.
Lumbar Support
Most manufacturers claim that their products offer adequate support, but how can you tell if it's true or not? Well, you should look for a chair that has a design that matches the contour of your spine and you have to try it before you buy it. In addition, an ergonomic office chair that offers a contoured backrest should provide the lumbar support and comfort that your requires.
The lumbar region is the part of the back that requires the most support because it tends to fall under a lot of compression and strain, which can injure the spinal discs. You know when a chair provides proper support when the lower region of your back is slightly arched while sitting. This prevents you from slumping in your seat by the end of the day.
Adjustable Backrest
This is one of the most crucial components in an ergonomic office chair. The chair should have a backrest that can be adjusted to suit your seating position. Backrests can either be fixated to the seat or separate from it. If you plan on buying a chair with a fixated backrest, make sure that it can be moved forward and backward. Also, make sure that it has a locking mechanism.
On the other hand, if you're leaning more towards an office chair that has a separable backrest, your primary concern should be whether the height of the backrest is adjustable or not. Further, you should be able to adjust the reclining angle to meet your requirements. If the chair fails to meet these requirements, it fails to be an ergonomic chair.
Seat Width and Depth
The width and depth of a seat play major roles when it comes to providing comfort for the user, especially if you're on the taller end. If you're a short person, a shallow chair shouldn't be much of a problem. Regardless of height, your back should be learning comfortably against the chair's backrest and the distance between your knees and the seat should be around 2 to 4 inches.
Adjustable Armrests
Adequate support for your arms, neck, and shoulders is equally important as back support. After all, if your job requires you to type your time away on a keyboard, you're really in need of all the support you can get. The armrests should be adjustable so that you can position them in a way that provides the most comfort for your arms.
Ease of Adjustment
Most ergonomic office chairs have adjustable this and adjustable that, but if the controls cannot be reached easily, you're likely going to strain your body just to adjust the chair. Not a fun affair. Every adjustable component of the chair should be comfortably in reach, from height adjustment controls to tilt adjustment controls. They should also be straightforward and trouble-free.
Used Materials
When inspecting the materials from which your office chair is made from, your primary concerns should be breathability, comfort, and durability. Your office chair should be well-ventilated to maintain an adequate airflow that keeps your body cool and prevents you from sweating excessively.
Moreover, the chair should be properly padded with more than just one layer of padding to offer a comfortable sitting experience. However, there's a fine line between a well-padded ergonomic office chair and an overly-padded one. Ideally, you don't want a seat that's too hard because it will cause a lot of pain, and not too soft because it won't provide adequate support.
Last but not least, you should carefully inspect the construction of the chair's frame itself. This is crucial if you're on the heavier end of the scale. The last thing you want is to shell out top dollar for a chair that will collapse after a few weeks of use. Make sure that the chair has a heavy-duty construction that can handle your size and that won't suffer from erosion over time.
Casters and Swivel
Mobility is important when it comes to buying an office chair. You don't want to have to get up off the chair just to get some papers from a drawer that's a couple of feet away just because it can't rotate or doesn't feature caster wheels. When it comes to caster wheels, it's important to choose a chair that features wheels that are designed for your office floor to allow for smoother mobility.
Conclusion
We all want to execute our jobs quickly and efficiently, but that just can't be done if our comfort and health are compromised. When you buy an ergonomic office chair, you're investing in your health and well-being. Don't think of a $1000 chair as a costly investment, rather think of it as a long-term investment that will help you get through hours of sitting without body aches.