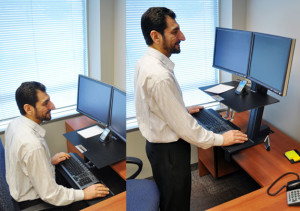 The Ergotron WorkFit duals are sit-stand workstation that can align two 23" diagonal screen size monitors side by side to create a productive and highly functional dual-display workstation. One my favorite features of these desk is the counterbalance adjustment points, which allows for instantaneous, tool-free re-positioning of the workstation. This means you can effortlessly lift your keyboard and LCD screens to the proper height for unsurpassed ergonomic comfort. All of the Ergotron WorkFit models are designed to be sturdy and will prove to be useful to a very long time for it has a flexible, open-architecture design which is allows it to be easily scalable for future computer equipment.
Did you know that choosing a standing desk option for at least part of your day increases the amount of calories you burn? Learn more about the benefits of standing work stations.
This product is easy to assemble and install and all parts were perfectly designed so they fit perfectly. The product is minimally intrusive. It clamps to the front part of the work surface and has a cushioned rest that accepts most of the weight to prevent any damage. The unit is balanced by a tension mechanism that is set properly to support monitors. The elevation mechanism is quick and smooth. It does not require much effort to adjust which gives the worker the freedom to sit or stand alternately while working. This stand-up work area will help you to burn more calories and ease hip flexor pain, leg pain, and lower back tightness.
Like most products this desk also has its downsides. Some users have complained about the size of the mouse pad that comes with the desk, saying that they've found it a bit small for their purposes. There are also no tilt adjustments for the monitors, which leads to some users to finding it a bit challenging to get the setup of the workstation as comfortable as they'd like. The jiggling of the monitor while typing is also one of the issues of this product that some users have complained about. Although it goes away when you lighten your typing, some customers have found this flaw bothersome. You may also find that chord management is a bit cumbersome depending on your setup.
Pros: Equipped with counterbalance adjustment points which allow instantaneous, tool-free re-positioning while you work. It has a maximum LCD height adjustment system of 23" for premium comfort. Easy to install and can align two monitors side by side that create a productive dual-display workstation. Effectively promotes proper ergonomic positioning and a sit-stand work routine that helps in counteracting the harmful effects of increasingly sedentary work styles.
Cons: Some users may find that the mouse pad is a bit small. Adjusting or tilting the screens are a bit cumbersome once they're attached. Some people have reported minor monitor jiggling when typing. Two monitors, a keyboard, a mouse, a ten-key, etc equates to a fair amount of cords, and as such, chord management is also something that some people have struggled with.
The Skinny
All things considered, this is a very nicely designed and cheaper alternative to a sit-stand workstation that fits many existing work surfaces. It can help relieve some of the stresses associated with prolonged static postures that irritate some musculoskeletal conditions of the spine and vascular conditions aggravated by compression on the back of the thighs.
The WorkFit S is the sit-stand desk that I've used daily, and I highly recommend it!
Learn how to get your ERGOTRON 33-341-200 / WORKFIT-S DUAL
, or any other of their industry leading standing desks.
Learn more about standing desks at JustStand.org.