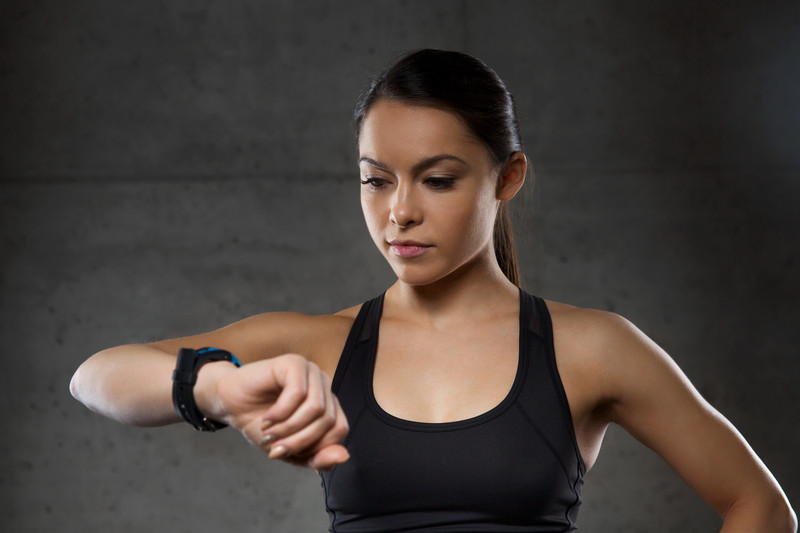 Fitness bands and activity trackers are all the rave, and are quickly becoming an invaluable tool for people who are seeking to live happier and healthier lives, and who are focused on becoming the best versions of themselves.
These small devices enable fitness enthusiasts to monitor personal attributes including their heart beat, create individually-tailored goals, stay accountable, reach their fitness goals, and even increase the quality of their sleep.
With so many fitness tracker wristbands and devices hitting the market recently, it can be quite difficult to choose the best one for your needs. To help you out, we have created a list where we review and highlight some of the top fitness bands out there.
Below is our collection and review of the ten best fitness trackers available today.
Rating: 3.8/5
With 3.8 stars out of 5, the fitness tracker from Toprime offers some basic features, plus a few additional niceties. Unlike standard fitness trackers that only measure calories, steps and distance, Toprime is a smartband, multi-function device that helps you stay in control of your life by keeping track of all daily activities. You can use it to set 8 unique clocks and timers, get notifications and even read messages from your smartphone.
On the downside customers have complained that setting up the app takes quite a lot of time, and that the provided documentation is rather difficult to understand.
Rating: 4.1/5
With a rating of 4.1 stars out of 5, the Ozo Fitness pedometer is very sleek and simple to use for all ages. This rather simple device features only a few recessed buttons on the back to prevent accidental resets. It also boasts exceptional battery life, a 7-day recall memory feature, and much more.
Some of the weaknesses identified by customers include complaints questioning the step counting accuracy of the Ozo Fitness SC1, and also that its features are quite limited. If you're looking for bells and whistles, than this activity tracker is probably not the right one for you. That being said, the Ozo Fitness SC1 fitness tracker is a simple option that's well worth the price for you're someone who's looking for more of a budget friendly solution.
Rating: 4/5
This smart bracelet has a rating of 4.0 out of 5 stars and comes with some great features, which are complemented by its polished, minimalist design. Some of its features include the ability to charge the band wirelessly, take photos remotely, enjoy a 3D sensor sleep monitor, and use it to get a variety vibrating alerts. Additionally, you can use the Trend United i5 keep track your caloric consumption, calculate the number of steps, and track your daily distance traveled.
The only drawback of the Trend United i5 smart wristwatch is the embedded app, which some have complained is a bit difficult and cumbersome to operate.
7. Fitbit One
Rating: 4.3/5
This wireless activity tracker enables you to keep tabs on everything, including heart rate, distance, steps, calories burned, goals and even sleep. You can easily use the device to set goals, check in on your progress, and earn badges for achievements. The Fitbit One syncs automatically with your smartphone, tablet or laptop. What makes this device stand out of the crowd is its sleek design and small size. It's only about the size of a small flashdrive, and fits easily into the palm of your hand..
Although most customers rated the well-famed Fitbit One with a respectable 4.3 stars, some offered a few complains about its tiny buttons, non-practical sleep wristband, and a few reported experiencing syncing issues.
Rating: 4.8/5
The guys from Forestfish have done a marvelous job when creating this water resistant sports/fitness tracking bracelet. It has a solid 4.4 stars out of 5, indicating that the majority of customers are quite pleased with its functionality. A few users have complained that the band is lacking in comfort, but even so, the Forestfish Smart Bracelet is equipped with tons of great features that make it a truly impressive product.
Some of the features that set this fitness tracker band apart in this industry are: long battery life, very easy to use, an easy to install app, remote control options, simple pairing, quite inexpensive, and the list goes on.
Rating: 4.6/5
With 4.6 stars out of 5, this device is considered one of the top wearable fitness tracker in the world, despite its simplistic, even minimalistic design. The 3D Trisport Pedometer is equipped with the world's most advanced 3D tri-axis sensor, has a long 30-day memory and boasts huge accuracy. With this device, you can virtually store 30 days of information, and you can use it both vertically and horizontally.
Probably the only disadvantage of this fitness tracking device is that it is not that easy to use, and it takes time to discover all of its features. For those looking for a wristband solution this is probably not the best option for you, as the Trisport is designed to slip into your pocket, clip on your belt, or hang around your neck.
Rating: 4.4/5
This inexpensive activity tracker has 4.5 stars. It has a variety of features including a 7-day memory, step tracking, adjustable stride length, and a 3G motion sensor. This device does not require any smartphone software or app to work, though can easily connect it to your device and save the information.
Even though the Copper Fit Step FX's design is quite appealing, it is a bit bulkier than other options, and is powered by batteries.
Rating: 4.6/5
At 4.6 stars the Hesvitband is one of the most flashy fitness trackers, and comes complete with a heart rate monitor. What makes it unique are the following: Available in a TON of vibrant colors, simplistic design, weatherproof, shockproof, has a backlight function, plus twelve functions that let you measure everything from calories burned and steps taken to heart rate and distance traveled.
On the negative side, the Hesvitband does not have an app for the computer, and it has some connectivity issues with smartphones and tablets.
2. KevenAnna Walking 3D Pedometer
Rating: 4.5/5
This simple fitness activity tracker has a decent rating of 4.5 stars, and offers exquisite functions. Use it for accurate tracking, 7 days of continuous recording, automatic reset, easy to read monitor and beautiful, minimalist design.
A few of the drawbacks of the Keven Anna Walking 3D fitness tracker band are that some users have reported finding the device rather difficult to setup, and others have reported inaccuracies with the step counts provided.
Rating: 4/5
This FitBit Charge HR activity tracker has a strong rating of 4 stars out of 5 on Amazon, but the really astonishing statistic that sets it apart is the number of reviews that this tracker has. Though it has a little higher price point than many of the fitness trackers on the list, it's clearly one of the favorites in the space with a growing number of raving fans all over the world. It's available in a variety of colors, and is actually one of the most comfortable fitness trackers that I've worn.
The Fitbit Charge HR is a robust system that allows you to track just about every aspect of your workouts including heart rate, distance, calories burned, floors climbed, active minutes, AND steps. This unit also allows you to monitor your sleep automatically, and enables you to set a silent alarm wake up. It easily syncs to more than 150 of the leading smartphones allowing you to effortlessly track your fitness journey.
The good news is that there are a number of quality fitness tracking tools now available on the market, so what it really comes down to is finding the one that is the best for you. Now that you know which fitness tracker bands are the best on the market, you can choose the right one for your needs and start capitalizing on the benefits of an advanced fitness tracker.
Remember that what's measured gets managed, and what's managed can be improved and taken to the next level!