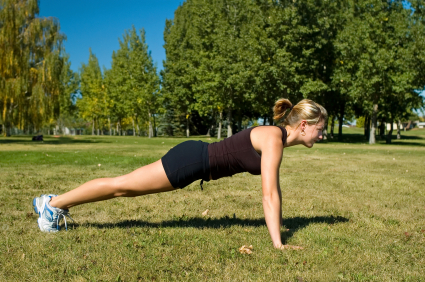 If you're a fit desk jockey who's been active in the fitness arena for any amount of time, you've probably experienced the unforgettable bliss of the burpee. In my experience personal trainers LOVE to hand these puppies out like candy, and they're especially generous and sadistic with them when you're near the end of your session and are already fairly certain you're tapping on deaths door. Like so many of my relationships in the fitness realm, the relationship I have with burpee exercises is a healthy blend of love and hate. I very often hate the process of dancing on the fine line between discomfort and pain, but I LOVE the results, and that makes the sweat, curses, and tears (there should never be blood) worth it in my book.
History Dork Moment
What you may not know is that the burpee was named in the 1930s after American physiologist Royal H. Burpee, who developed the "Burpee Test" as a part of his PHD thesis as a quick and easy way to assess an individual's level of agility and coordination.
Burpee Basics
The burpee is a wonderfully simple yet effective full body exercise that's often used in strength training, as well as aerobic exercise. For those reasons burpees are a fabulous way to keep you building lean muscle, even when you don't have a chance to tackle a more traditional workout. They're also a terrific way to kick your current workout up a notch! I personally incorporate them into my strength training in order to kick up the intensity, and get a little cardio in the process. The basic exercise is performed in four distinct movements, which is why it was originally known as a "four-count Burpee".
Begin in a standing position with your feet about shoulder width apart, and your arms at your side.
Drop into a squat position with your hands on the ground.
Press down with your hands and extend your feet back in one quick motion to assume the front plank position.
Return to the squat position in one quick motion.
Return to an upright standing position.
Other variations include:
The Knee Pushup Burpee
The Pushup Burpee
The Jumping Burpee
Dumbbell Burpee
Killer Burpee
The 8 Count Bodybuilder Burpee – A push-up burpee with a horizontal jumping jack prior to the pushup.
The 8 counts are:
Squat with your hands on the ground
Kick your feet back
Kick your feet out to form a Y shape
Bring your feet back together
Down into a push-up
Up part of the push-up
Return to the squat position in one quick motion.
Jump in the air
To all of the fit desk jockeys out there, I hope you're having a fit and happy holiday season! I hope you had as much fun cheating as I did on Thanksgiving. No joke, I had four different kinds of pie in ONE DAY! It's all good, because I know I'm surrounded by an awesome community that helps pull each other back up onto the fitness wagon. If you're looking for a hand, give a burpee a try. Do a set of 10 between each of your bench press sets, and see how it goes.
[h3]Sample Burpees[/h3]
[video_left][video_frame]
[iframe url="http://www.youtube.com/embed/48x4qE6S9CQ" width="572″ height="312″]
[/video_frame][/video_left]
Sound Off
The Holidays are here, so stay close as we navigate the season brimming with savory sweet temptations and overindulgence! 🙂
Every year thousands of people embark on a fitness journey on January 1st, only to fall of the fitness wagon by February 1st (generous in some cases). One more reason to share fitdeskjockey.com with a friend this season. We're a free gift that keeps on giving, and we're EXCELLENT at throwing people back up onto wagons. I'm proud to announce that our facebook fan page is approaching the 700 'likes' mark, so THANK YOU for sharing the fitness love!
That's it for now.  Feel free to share your creative and/or punishing variations of this fabulous fitness staple in the comments section below, or say whatever pings your pong.
Happy Holidays!
-Matt