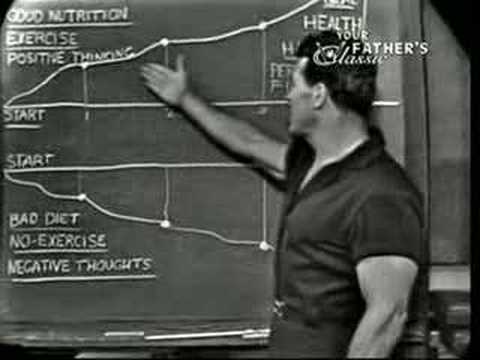 Jack LaLanne, who is generally regarded as the Godfather of Fitness, passed away from respiratory failure due to pneumonia on January 23, 2011 at the remarkable age of 96. After hearing health food pioneer Paul Bragg give a talk on health and nutrition, Jack began his fitness journey from a 15 year old boy addicted to sugar and junk food, to bodybuilder and fitness guru.
He shared his love for health and fitness with the world for 34 years via his show "The Jack LaLanne Show", which is the longest running television exercise program of all time. In many of Jack's shows you can see him directing much of what he says to housewives, which is a great testament to his belief that woman should be lifting weights too. The general consensus at the time was that lifting weights would make women look more masculine and unattractive. He was the original at-home fitness guru.

He was a firm believer in the saying "You are what you eat"
Some of Jack's Fantastic Fitness Feats Include (according to his website):
1954 (age 40): Swam the length of the San Francisco Golden Gate Bridge underwater with 140 pounds of equipment, including two air tanks. (An undisputed world record)
1955 (age 41): Swam, handcuffed, from Alcatraz to Fisherman's Wharf in San Francisco, CA.
1956 (age 42): Set a world record of 1,033 pushups in 23 minutes on "You Asked for It, a TV Show with Art Baker.
1957 (age 43): Swam the treacherous Golden Gate Channel, towing a 2,500-pound cabin cruiser. This involved fighting the cold, swift ocean currents that made the 1 mile swim a 6 ½ mile test of strength and endurance.
1958 (age 44): Maneuvered a paddleboard 30 miles, 9-½ hours non-stop from Farallon Islands to the San Francisco shore.
1959 (age 45): Completed 1,000 pushups and 1,000 chin-ups in 1 hours and 22 min. "Happy" is born and The Jack LaLanne Show goes nationwide
1974 (age 60): Swam from Alcatraz Island to Fisherman's Wharf, for a second time handcuffed, shackled and towing a 1,000-pound boat.
1975 (age 61): Swam the length of the Golden Gate Bridge, underwater, for a second time handcuffed, shackled and towing a 1,000-pound boat.
1976 (age 62): Commemorating the "Spirit of '76", swam 1 mile in Long Beach Harbor, handcuffed, shackled and towing 13 boats (representing the 13 original colonies) containing 76 people.
1979 (age 65): Towed 65 boats filled with 6,500-pounds of Lousiana Pacific wood pulp while handcuffed and shackled in Lake Ashinoko, near Tokyo, Japan.
1980 (age 66): Towed 10 boats in North Miami, Florida filled with 77 people for over a mile in less than 1 hour.
1984 (age 70): Handcuffed, shackled and fighting strong winds and currents, towed 70 boats with 70 people from the Queen's Way Bridge in the Long Beach Harbor to the Queen Mary, 1 ½ miles.
1992 (age 78): Academy of Body Building and Fitness Award
1994 (age 80): State of California Governor's Council on Physical Fitness Lifetime Achievement Award
1996 (age 82): Dwight D. Eisenhower Fitness Award
1999 (age 85): Spirit of Muscle Beach Award
2002 (age 88): Jack receives his very own star on the Hollywood Blvd. Walk of Fame
2004 (age 90): Jack celebrates his birthday with a major media blitz in New York, San Francisco, and Los Angeles. ESPN Classic runs a 24 Hour marathon of the original Jack LaLanne Shows
2005 (age 91): Received the Jack Webb Award from the Los Angeles Police Historical Society, the Arnold Classic Lifetime Achievement Award, Interglobal's International Infomercial Award, the Freddie, Medical Media Public Service Award, and he was a Free Spirit honoree at Al Neuharth's Freedom Fourm. In this year Jack was also inducted into the National Fitness Hall of Fame, with the likes of Charles Atlas (2005) and Joseph Pilates (2011).
2007 (age 93): Received the Treasures of Los Angeles Award, Lifetime Achievement Award from Muscle Beach, and the Y.M.C.A. Impact Award.
2008 (age 94): Inducted into the California Hall of Fame, Parker Seminars Award, received the honorary degree of Doctor of Humanities from the Southern California University of Health Sciences, receives the People of Vision Award from the RP International, receives the Heroes Humanity Award, and was inducted into the Gallery of Legends hosted by the World Acrobatics Society.
2009 (age 95): Jack receives Lifetime Achievement Award from Club Industry. Jack LaLanne days were observed in San Francisco and Los Angeles.
He is also credited with countless fitness innovations including:
The first leg extension machines
Pulley machines using cables
The weight selectors that are now an industry standard
The original model of what became the Smith Machine (kudos for that!)
10 of Jack's most memorable quotes:
"If man made it, don't eat it."
"If it tastes good, spit it out."
"Do – don't stew"
"Ten seconds on the lips and a lifetime on the hips."
"First we inspire them, then we perspire them."
"You eat every day, you sleep every day, your body was made to exercise everyday"
"You've got to satisfy you. If you can't satisfy you, you're a failure."
"If you want to change somebody, don't preach to him. Set an example and shut up."
"Would you give your dog a cigarette and a doughnut for breakfast every morning?" "People think nothing of giving themselves that for  breakfast, and they wonder why they don't feel good."
Jack's Finger-tip Push-ups – One of my favorite clips:
So much of what the fitness industry has been able to accomplish, and what it will accomplish in the future, is because we're blessed with the ability to stand on the shoulders of pioneers like Jack LaLanne. We share and will continue to fight for your belief in a healthier and happier world.
Rest in Peace Francois Henri "Jack" LaLanne (September 26, 1914 – January 23, 2011)
-Matt