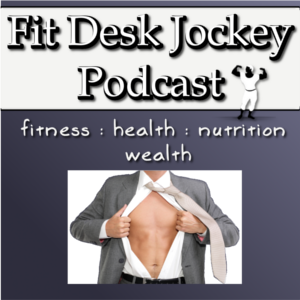 It's finally here! Welcome to the first session of The Fit Desk Jockey Podcast.
The podcast will also be submitted to iTunes, so feel free to check it out there as well. You can be sure I'll be making a lot of noise the day it goes live there, so stay close.
Since this is the first episode, and this may be your first visit with the Fit Desk Jockeys, I just wanted to start out spending a little time to officially introduce myself to you. I also go over a few show formalities that shed some light on what you can expect from this podcast going forward. As requested, for the first time we'll reveal some results of our fitness survey, and in response we'll journey through a few tips we can all use to help make our resolutions into personal revolutions.
[notify_box font_size="13px" style="blue"]"Better to die fighting for freedom than be a prisoner all the days of your life."  ~ Bob Marley
[/notify_box]
Any special items with regards to the show will be included under the "Resources Mentioned" heading, along with a transcript prepared by a faithful fellow fit desk jockey.
[h5]Resources Mentioned[/h5]
[h5]Fit Question of the Day[/h5]
What triggers have you identified and/or overcome to get healthier?
[h5]Next time on the Fit Desk Jockey Podcast![/h5]
We're VERY excited to have Suzanne from Workoutnirvana.com on the show talking about women and weightlifting. I think it's a very important topic and I appreciate the fact that Suzanne can offer an expertise to the subject that I lack. 🙂
Fitness, Health, Nutrition, Wealth!
-Matt