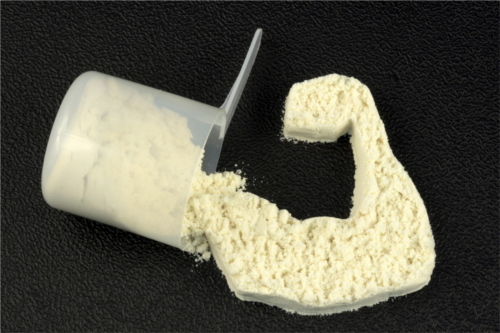 Going from unexpected gift to one of my must-haves, my single serve personal blender has made protein shakes a ton more tasty AND incredibly handy.
There's no denying that I'm a huge fan of protein shakes, and if you don't believe me you probably haven't visited the fit desk jockey collection of 144 Protein Shake Recipes yet. It's been nearly two years now since that post went up on the site, and it still remains one of the most popular posts. At this point I've tried just about every shake in the collection, and I definitely have my favorites.
Although the convenient shaker method of protein shake consumption is the most popular for protein shake preparation for fit desk jockeys always on the run, it's also the preparation method that tastes the crappiest (IMHO). It doesn't matter how great you say your protein tastes prepared in a shaker, I bet that it tastes even better in a blender. However, admittedly I rarely used a blender to make "real" blender-made protein shakes, except when I was doing something like trying a new recipe for the site.
Ladies and gentleman I have a confession to make.
I absolutely HATE cleaning freakin blenders.[ Tweet this]
Hey, I'm great at getting to the gym and getting my workout in every day, even when I recently switched to 6 am workouts, BUT that doesn't mean I'm not a lazy man at heart. (Hey, I'm a fit desk jockey, not a saint). In the past at least 9 times out of 10 when I would make a protein shake I'd be drinking it up from my little protein shaker with just a blast of water or milk.
That all changed on Christmas Day 2012 when my wife got be one of the BEST Christmas gifts ever! An Oster MyBlend
, a gift that has continued to make my protein shakes a lot tastier ever since. It's on it's way to becoming the most used gift I've ever received, and has proven for me to be the secret unlocking thousands of tasty protein shake recipes WITHOUT the mess.
The Number Nerd Specifics:
Blend your favorite smoothie or shake right in the sport bottle
It's dishwasher-safe 20-ounce bottle
The plastic is BPA-free
Comes with a convenient travel lid
Powerful 250-watt motor with One Touch blending
Built-in, resettable fuse will revive the motor in 15 minutes should it overheat
There are four main reasons why I love my Oster Personal Blender, and why I think you owe it to yourself to check it out of you shake your protein, shake, shake your protein.
Affordable – The unit is relatively inexpensive at $24.94 (Amazon), BUT I've seen at places like Herbergers for $19.99 during the holidays. Money VERY well spent.
Easy to Clean – If you use your protein shake blender daily like I do, then all you really need to do for cleanup is to give it a good rinse with hot water. I do take the time to give mine a good hand washing with soap every few days or so (or at least I mean to).
Size – The single serving size (20 oz) of the Oster personal blender makes it so easy to throw together a post workout shake right when you get in the door. For you early morning workout gym rats (I've been one for about 3 weeks now), you can even make your shake in the morning and take it with you for a post workout boost by using the alternative travel top (included).
Feel Fuller – James Bond may know how to order a martini, but definitely NOT a protein shake. When you add ice to your protein shake, maybe a banana (thanks Gwen) and actually blend it rather than shake it, the result is a much thicker shake. I've found the thicker shake to be much more filling and satisfying, especially for those days you really kill it during your workout and you're just STARVING.
The Oster Personal blender is the perfect size to whip up all 144 FDJ Protein Recipes! 🙂
Now, there are a few bad reviews on the Target site, some complaining that the bender leaked for them after only a week, but I've been using mine daily for over a month now with absolutely no problems. I guess you can't always believe what you hear on the internet, who knew?
Below is one of my favorite protein shake recipes from our collection.
Cinnamon Apple Pie Protein Shake
8 oz skim, soy or almond milk

1 rounded tbs apple sauce
3 drops vanilla extract
3 dashes of apple pie spice
1 tsp cinnamon
1 scoop vanilla whey protein powder
The individual benefits of spices like cinnamon, nutmeg, and allspice are fairly well known, but when united for a common delicious purpose these three spices become a fantastic homemade apple pie spice. To make a tsp of your own homemade apple pie spice, simply combine a 1/2 tsp of ground cinnamon, 1/4 tsp of ground nutmeg, and 1/4 tsp of allspice. Delish! It's also an awesome addition to oatmeal.
If you give either the shake or the homemade apple pie spice a whirl, check back and let us know how it goes.  Be sure to like our facebook page to stay up to date on all things fit desk jockey, and join the over 800 other fit desk jockeys.
For more information checkout our complete guide below.
You can also checkout the Oster website for more about the Oster MyBlend.
Still need
MORE

power?
Checkout the Waring Pro, a 3.5 horsepower behemoth!
Fitness, Health, Nutrition, Wealth!
-Matt