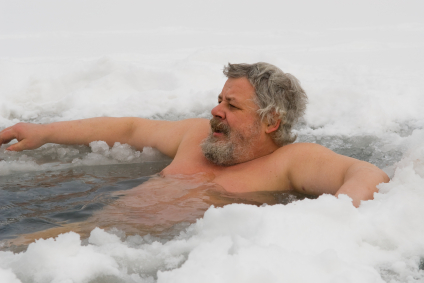 In his new book The 4-Hour Body: An Uncommon Guide to Rapid Fat-Loss, Incredible Sex, and Becoming Superhuman
, author Tim Ferriss exposes a few simple ways that all of us can use temperature manipulation to supercharge our weight/fat loss. One of the ways Tim Ferris accomplishes this is by taking a 15 minute ice bath 3 times a week.
The idea is that your body naturally wants to maintain it's homeostasis (internal stability) temperature of 98.6 F. By exposing your body to cold and decreasing it's temperature, you're spurring it to burn even more calories to create heat (heat = calories) as it tries to get back to homeostasis.
After being inspired by stories of swimmer Michael Phelps' 12,000 calorie/day diet, Ray Cronise, a friend of Tim Ferriss and former NASA scientist, started including cold swims and shiver walks in his workout routine. The result? His weight loss TRIPLED as he went on to lose over 30 pounds in ONLY six weeks.
Living in a place like Minnesota, where the average Winter temperature is 6 degrees Fahrenheit, a shiver walk would be incredibly easy to incorporate into my fitness journey. For me it's as Tim himself quotes in his book:
"This [approach] could be totally wrong, but it's a hypothesis worth disproving." -Dr. Noakes
BUT I'm curious what you think about adding an ice bath or shiver walk to your routine. Should we start our own shiver walk group? Are you likely to give it a whirl, OR do you think Tim is CrAzY or full of shit?
For more on the modern day Indiana Jones and superhuman that is Tim Ferriss, visit his official website at fourhourbody.com